This desk wasn't much to behold, truly I was more captivated by the stack of boxes that my OCDness made me count (11!), more than anything else, but ohmygoshyouguys, the after is so beautiful!  
What is amazing about this redo is that Sammy didn't paint it.  Not technically anyway. She used a diluted tube of
Pearl Blue
Rub 'n Buff!  What whaaaaaa!?  Have you seen those tubes?  They are smaller than a travel-sized toothpaste.  I would have never thought to try such a large scale project with that. You really have to see it up-close to believe, take a look-see on her blog
ReNew ReDo
!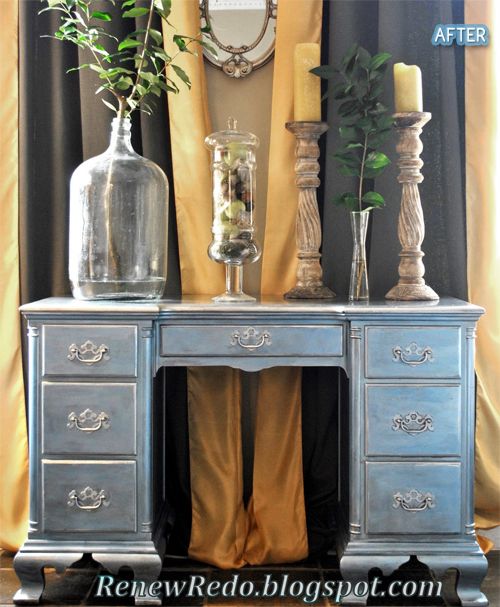 And say what?! Leather too!?  Sammy turned her scratched-up
ottoman
into "glamtastic eye-candy" with a little Rubbin and Buffin that hid the damage beautifully.  I realize that a golden-gilded ottoman isn't everyone's cup of tea, but I'm amazed that this is even possible.  And there are so many other colors too.  I wouldn't be surprised if Sammy becomes the official Rub 'n Buff spokesgirl someday!