As you may know, I am a big proponent of "using what you have." That's why my family ate a spinach-asparagus-rice-and-cheddar casserole for dinner last night. True. It wasn't as bad as it sounds.  Ok, it was. I was too tired to go grocery shopping.  But shopping around your house for items to use in a makeover instead of spending extra cash at a store?  That's a recipe for success!
So check out these room redos that made magic out of a little refreshing and rearranging instead of a total renovation.  First this bedroom got a major update with some new linens and a homemade headboard!  Yup, nothing much more than plywood under there! See the tutorial on Sandi's blog
Making it Homey
.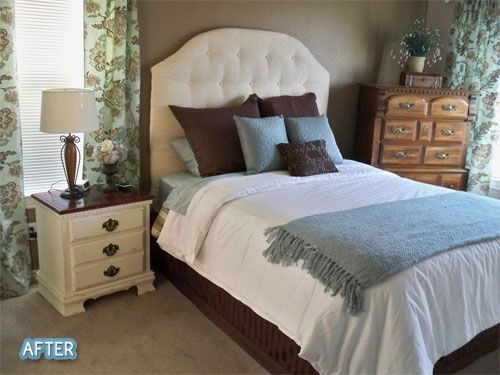 And resident staging expert Robin from
Madison Modern Home
de-brownified this monotone living room with fresh paint and a lil' furniture swapping.  Robin says she was aiming for a casual, coastal vibe by incorporating colors of sand, sea and sky, while trying to avoid "beach" cliches (like lighthouses)  Check and check.  And that spooky hovering puppet is gone too, so double bonus!
Thanks ladies!