ME: "Hey Gabbi, what's new?"
GABBI: "Well, I just bought this house and the kitchen has GOT TO GO."
"Really?  What's the prob?"
"It's cramped and it's dark, and it's still rocking a few 'trends' that have totally overstayed their welcome.  Old linoleum, wallpapered shutters on the window …"
"Wow!"
"… backsplash tile that goes beyond the bounds of propriety and creeps up on the sides of the cabinets …"
"Ew!"
"… and fast-food restaurant booth seating …"
"Wait, was that ever trendy?"
"… to name more than a few." 
"Yeah, good luck with that!"
But Gabbi knew there was a beautiful kitchen lurking somewhere under there.  Would you believe those are still the same cabinets?  Sigh.  It's dreamy!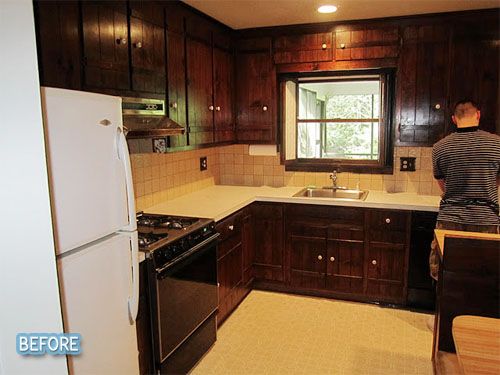 Because the last thing you want is your home to feel like a Burger King. 
Ahhh, I love the splashes of aqua.  In fact, the insides
of all the cabinets are aqua too!  Check that out and lots more on her
blog Retro Ranch Reno!  Thanks Gabbi!