Hey everyone, it's time for another Fashion Friday!  Are you excited?  I am!  Today we are visiting Liz from
Cotton and Curls
, who is so tragically hip that I almost can't stand it and simultaneously want to be her best friend and never be in a room with her at the same time because of her all-encompassing fabulousness.  Uh, anyway…
Liz has tons of fashion remakes on her blog, but I was particularly taken by the ones featuring bleach!  The only time I've used bleach to fix up my clothes was one time in high school, I noticed a small stain on the front of my white shirt right before I left the house, so I thought, "Hey!  I'll just dab some bleach on here and be on my way!"  And by the end of the day it had burned a hole through the chest of my shirt.  So… I could use some pointers.  Here we go!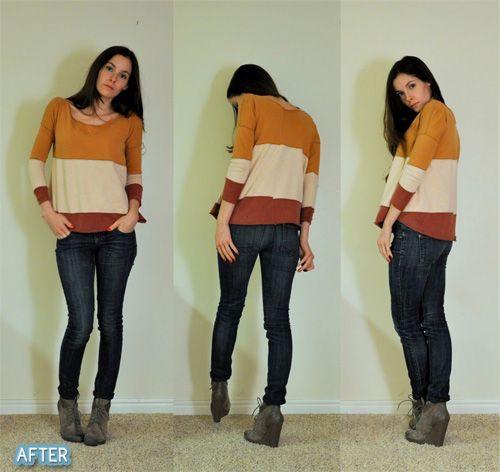 Not only did she bleach the blah right out of this rugby shirt, did you see how she also removed the collar and cropped the bottom?  Cute! And she makes it look so easy too. See it
HERE.
Oh no!  Did a few splashes of Clorox ruin your favorite pants?  Bleach the whole darn pair!  I would be too terrified to try this, for fear of my pants dissolving right off me in the middle of Safeway or something, but they sure look cool.  See it
HERE
.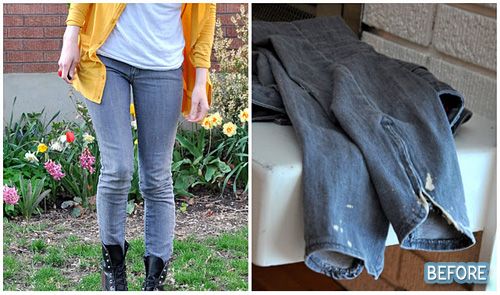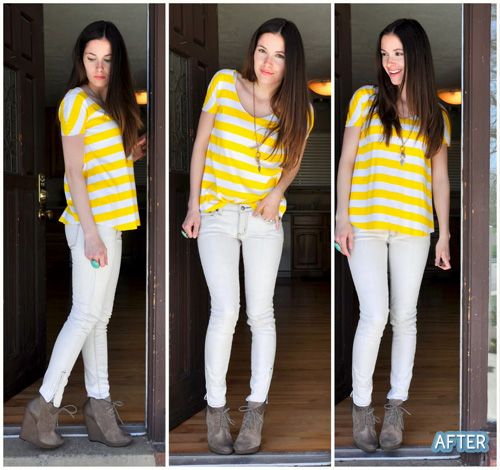 Ok, this one doesn't use bleach, but instead dye.  Still, that's using some sort of liquid to achieve a color different than the one you started with … so, same diff.  Whatevs.  Here she slowly lowered this tank-top into a pot of dye, 30 seconds for every couple of inches, to achieve a lovely ombre-effect. See what I mean?  She's just so darn hip!  See it
HERE
.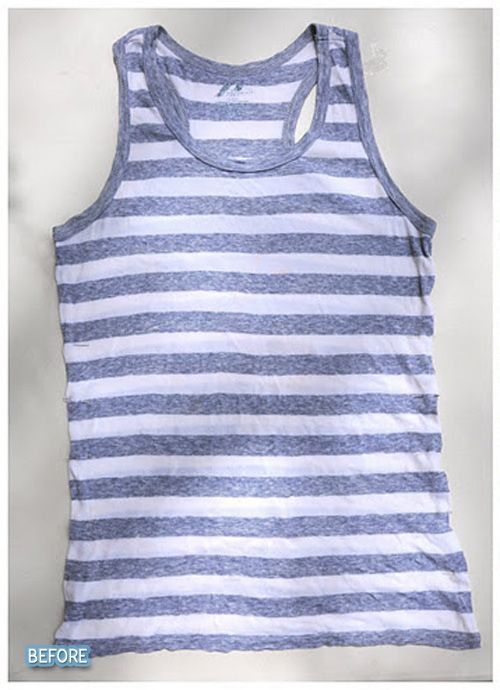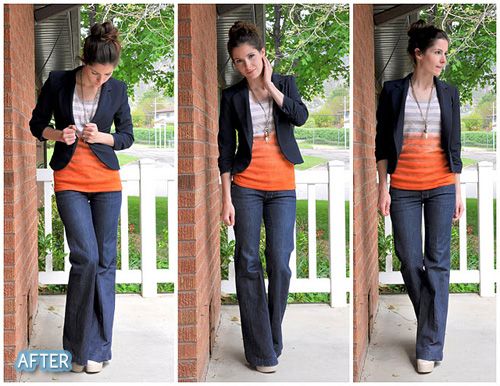 And here's one more bleachy redo from Kelly, who used a bleach pen to bring life to a thrift-store find.  Feel free to try this one at home, but don't feel bad if your results aren't quite as awesome, because Kelly just happens to be an incredible henna artist by trade. My design would probably be a smiley face. That turned into a hole. See more on her blog
Kelly Caroline.
(a somewhat photoshopped before…)