Today's makeovers feature the often overlooked and ignored cousin of Paint – Stain.  It's not Stain's fault, he really is a great guy.  He's just a little more subtle and subdued than that loudmouth Paint.  If you get a chance to spend some quality time with Stain, I think you'll really come to appreciate his good qualities.  He's classy and refined. He has a certain glow about him and always seems to bring out the best in others.  So let's tip our hats to Stain, and to these stunning redos that he made possible.
I lovity love this dresser from Jill at
Junky Vagabond
.  It's both masculine
and
elegant!  It's masclegant!  It's elemanly!  I'll work on it …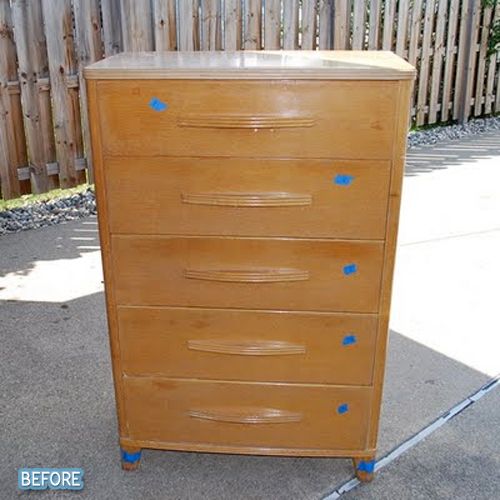 And I also love this desk from art student Emily. She needed an upgrade from her flimsy drafting table and decided to refinish this relic to take its place.  I love how the stain brought out it's character, which is a nice way of saying 'flaws' … but I'm kind of digging those flaws.  It looks weathered and worn, but also loved.  Our ol' pal Stain took it from a wreck to a WOW!