This year I had a serious talk with myself.  I asked myself why I've hung on to so many ugly Christmas decorations for so long.   "Does that stack of plastic poinsettia placemats have sentimental value, or were they on clearance at Wal-Mart?" I prodded. "Clearance," I mumbled.
"Did you plan on revisiting your "Country-Christmas phase" from a decade ago, or can we admit that you never liked it in the first place and throw out that 3-foot tall gingham Santa thing that falls apart and stabs someone every year?"  "I'll get rid of Stabby Claus," I sighed.
It really wasn't hard to part with a lot of my junk once I got going; it actually felt like a relief!  If you've found yourself with a little extra breathing room in your Christmas storage bins too, here are a few great holiday decor ideas that you might want to try.  Yay for non-ugly stuff!
Nikki from
Grand Design Co.
made these Christmas stockings with $3.99 IKEA rugs!  I love the burlap trim too.  She says you can make one and a half stockings per rug.  If my math skills serve me, that's like $2.65 per stocking!  Cheap, easy and cute.  That's my new Christmas decor criteria.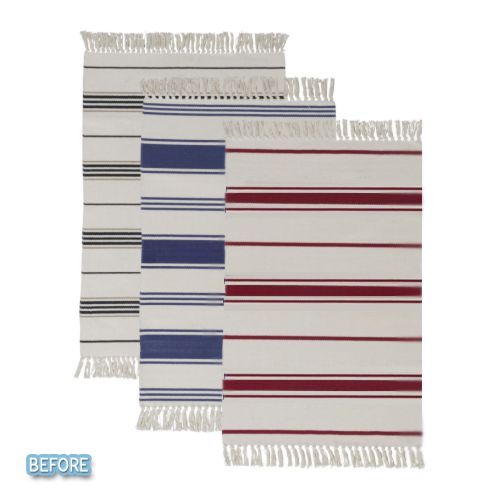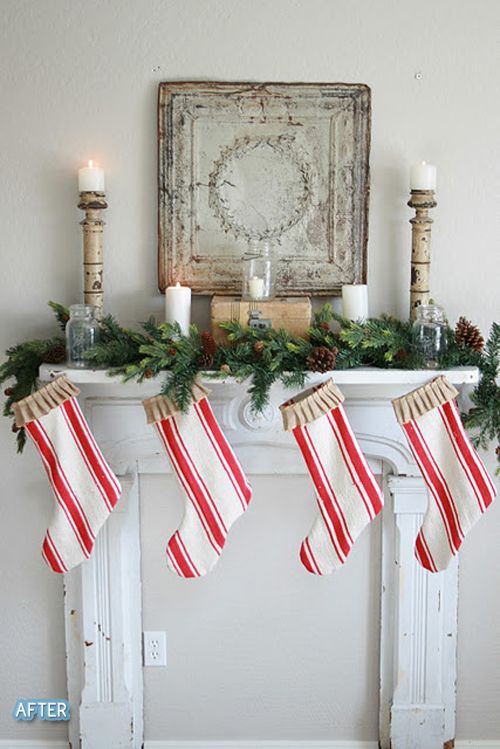 Better After reader Dana also got creative with her stockings by using a fleece blanket.  They practically give these blankets away; you could make stockings for your whole neighborhood!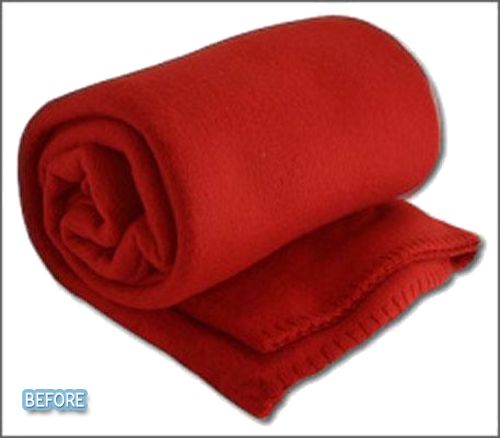 I love mini Christmas villages, however, I've never wanted one for myself.  So much work and money! I just prefer to let you put one up so I can look at it.  BUT, thanks to Shannon from
Fox Hollow Cottage
and her little church project, I think I'm going to keep my eye out for village pieces at the thrift stores during the year. Because how pretty would an all white, glittered and sparkly village be?!  Answer:
So
pretty!
And keep that can of white spray paint out, because look how easily it turns creepy into cute! I'm pretty sure that before elf was not really Santa's little helper, but actually a demon vampire.  The blue glitter is really helping it's cute-ability factor too.  From Crystal at
Beautiful Haven
.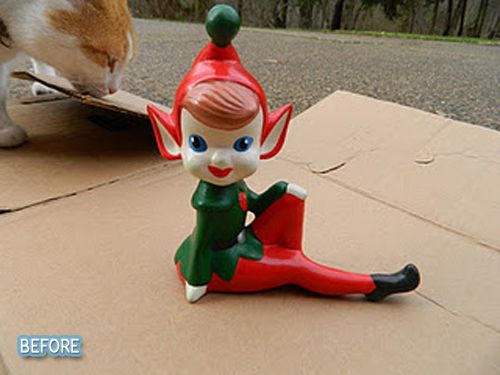 And don't put away the blue glitter yet!  Give your holiday wardrobe a kick of color too!  (get it?
Kick
of color? AH Ha Ha! Ha! Ha.  ha. … Sorry.)  Anyway, it's so unexpected and fun.  From Francesca at
Restyle Restore Rejoice.
I hope you enjoyed these holiday revamps!  May your days be merrier and brighter!