Let me again share my love of chevron. I'm just a big fan. It's graphic and bold, and doesn't take itself too seriously. True, it is everywhere these days, but if you feel like it's been played out, just call it something else and no one will be the wiser! Try "zig-zag," or "herringbone," or my favorite, which my mom said when she saw a chevron wall-hanging I made ... "I like that tire-track thing!"
This one is from Amy at
BiblioMOMia
, who says "
Oh yeah. That's duct tape on an Eames Shell Chair. The style purists would probably kill me, but I'm SO EXCITED!"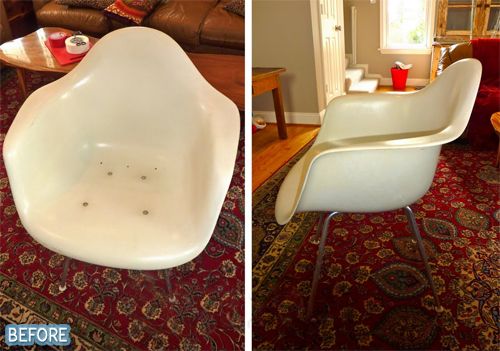 And even if you are sick to death of the chevron craze, you have to admit that it is
so much stinking better
than this fields-of-golden-wheat-inspired fabric. From Shelley at
Custom Slipcovers by Shelly.
She always does such a fabulous job.
Thanks ladies!