People be all up in my grill about why I only ever post painted wood makeovers.  Not really.  Most people are very  nice.  (Except the couple of people who emailed me over the weekend demanding that I take down the creepy doll pictures. Blerg. Guess what?  I ALREADY KNOW they are creepy!  It's for Halloween!  Not everyone has the same taste.  I would certainly never go to your house and demand that you take down a picture I didn't like.  The nerve…)  Ahem.  Moving on. 
So anyway,  here is some wood that has NOT been painted! Instead it was lovingly restored and restained to a beautiful rich walnut.  I'm in loves.  I would have totally just painted this white.  But I might have to venture down the wood-stain aisle sometime. Where is that again?  From Lindsay at
Country Girl Home
.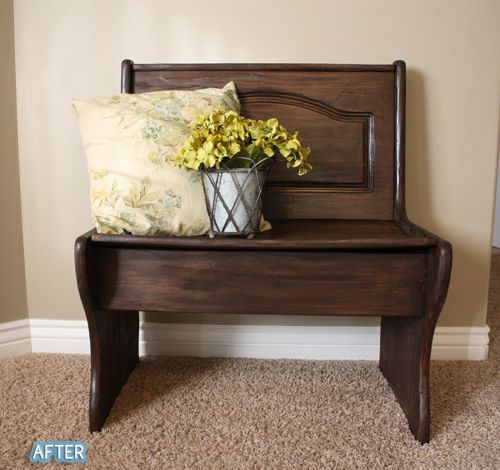 And hang on, there's more!  She redid this old… any guesses?  Bread pan?  Broken lunchbox lid?  Actually, it's an old ammo box, and now it's super cute and adding some shajazz to her side table.  See it
HERE
.  Thanks Lindsay!