(Giveaway now closed)
So, the previous owners of my house had an intense love affair with the colors red (tile), orange (cabinets), brown (carpet), and maroon (countertops), and, inexplicably, gold glitter (plastered on random surfaces, no joke, we had to remove it with a belt sander, it took 3 entire days), so in the couple of years we've been here, we've been slowly undoing all that mess while still trying to figure out what we want it to be.
One room the previous owners hadn't touched was our half-bath downstairs.  No paint, no faux brick murals like they blessed us with in the other parts of the house, no gold glitter thank heavens, no nothing.  Basically a sink and a toilet.  Well guess what?  I finally did something about it!  Check it out: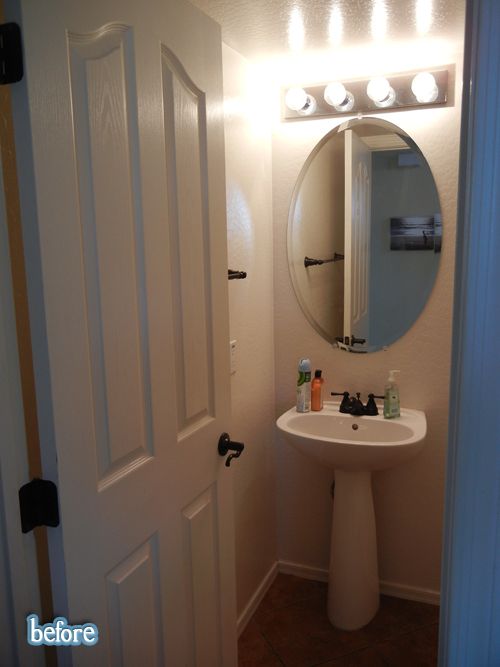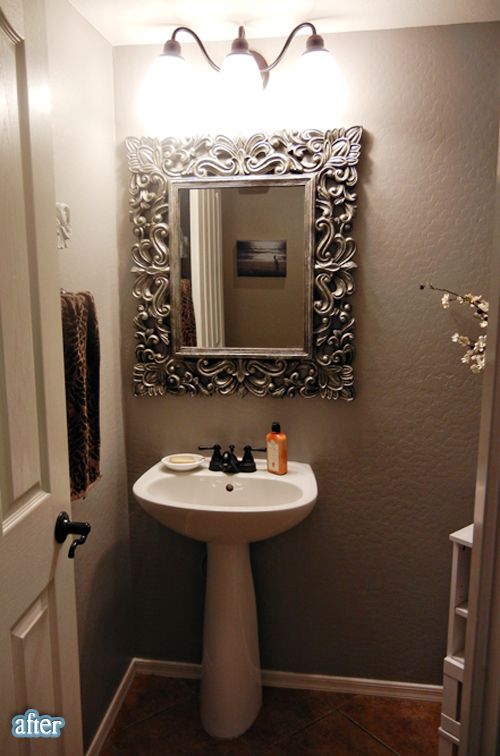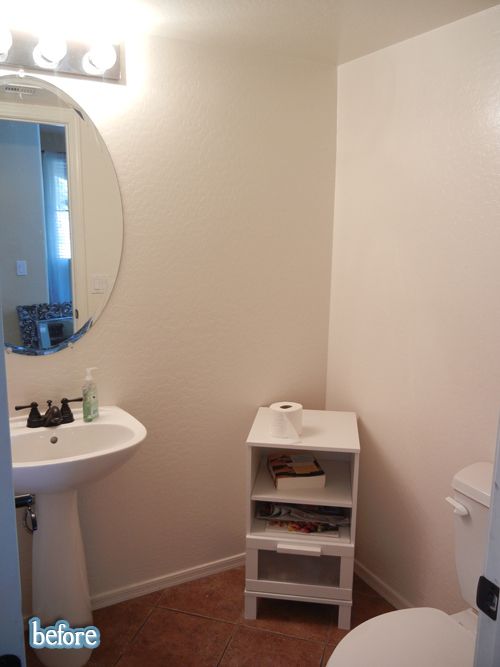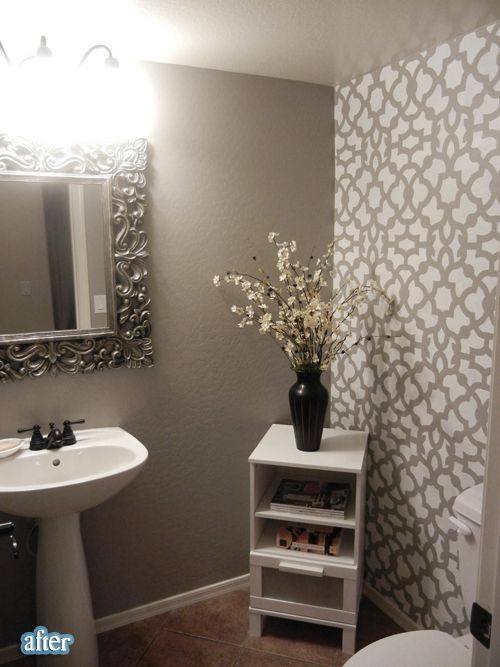 Woo!  Do you like it?  Isn't that better?  I'm pretty happy with it.  Everyone who sees it seems to like it too, if only because I force absolutely anybody who drops by to take a look. Friends, neighbors, the UPS man, the guy who fixed my sprinklers today, I don't care, I'm so proud of it! 
Gray paint is Weathered Tin by whatever the cheapest brand at Walmart is. (my very favorite gray)
Mirror is from Home Goods.
Light fixture (not that you can see it, someone please tell me how to take a picture of a light) was on clearance at Home Depot.
BEST PART:  Cutting Edge Stencils is going to give away any stencil design up to $50 to one lucky Better After reader!  Hooray!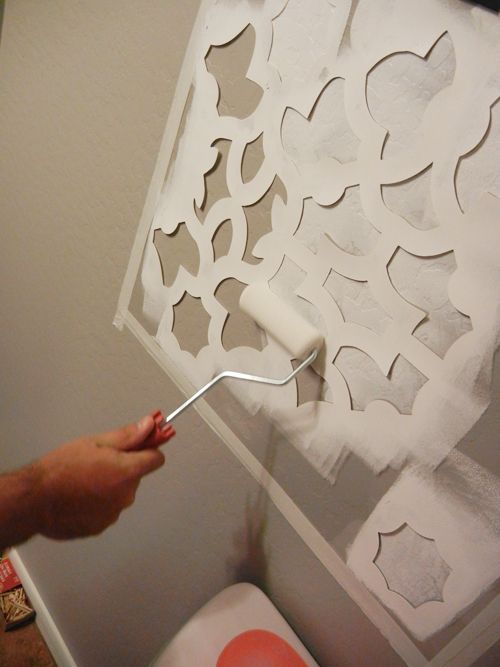 Here is the stencil in action.  It was really easy to use once we got the hang of it.  You definitely want to use a foam roller like this and go v e r y   l i g h t l y  on the paint.  We did a light coat followed by a few minutes spent watching 30 Rock, followed by another light coat, then we'd move the stencil.  The cutouts on the bottom are there to help you line it up exactly when you move the stencil, and we didn't have any trouble staying on track.
That's not my burly arm up there, that is my husband Matt's.  I say "we" but I mean "he" because he did all the painting.  He tries to pretend he doesn't like it, but look at that grin.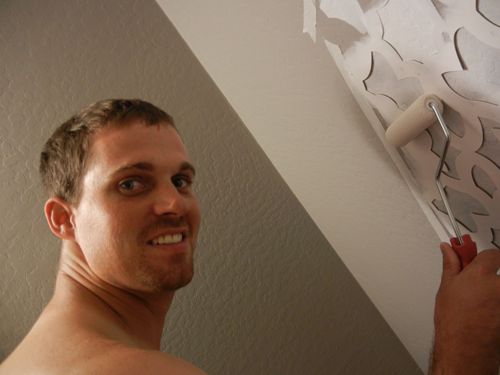 I helped by watching 30 Rock while he painted and also taking stupid pictures of myself in the mirror.
All in all, this entire makeover took about 8 hours total, a pretty decent time-to-outcome ratio, I'd say.
I once heard that you should have something unexpected in every room, so this is it.  A tiny hot air balloon!  You can only see when you are standing at the mirror, it's like a little prize for washing your hands! Or I guess you can see it if you gaze upward while on the toilet, but who would do such a thing?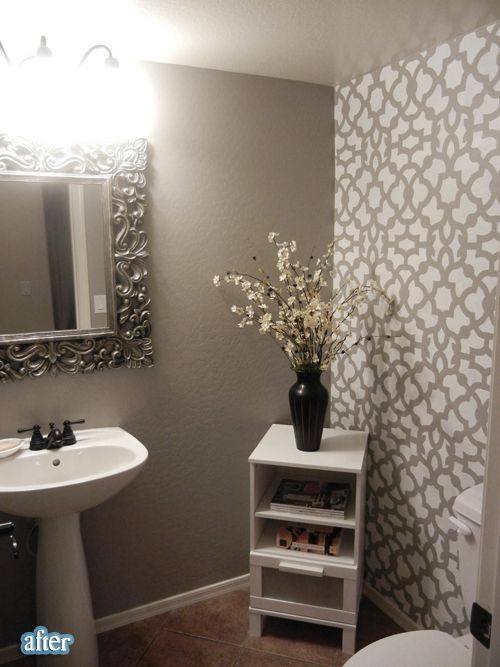 SO!  Would you like to win $50 toward any stencil of your choice from Cutting Edge Stencils?  (Almost all of their stencils are well under this price range.  The Zamira stencil that I used was $37.95).  They have so many styles to choose from, there really is something for everybody.
Enter below!  (I'm trying out this new Rafflecopter thingy to help make the giveaway entering process as easy as possible for you, we'll see how it goes …)
3 chances to win!  
<a href="http://rafl.es/enable-js">You need javascript enabled to see this giveaway</a>.