(giveaway now closed)
Halloween is pretty much my favorite holiday, for several reasons:
1.  I love to dress up!  I will gladly partake of any occasion that allows me to wear a costume and make a fool of myself.
2.  No pressure!  I don't have to battle crowds and scour the stores on Halloween Eve, looking for the perfect gift for my great aunt Ida, or worry about sending so-and-so a Halloween card, just because they sent me one.
3.  Like that wasn't enough, there's free candy!
So, I'm really excited about this giveaway from artist extraordinaire and Queen of Halloween herself, Kelley Smith!
Understatement alert: Kelley likes Halloween.  If you are lucky enough to see how fantastically she decks out her home for Halloween, you will stand there gaping for hours, and then come home and curse all your own pathetic decorations. 
Here's an example: This year I hung up a paper skeleton from the dollar store.  Kelley, on the other hand, hand-painted these porcelain dolls into the creepiest altered-art you've ever seen, named them, and WROTE THEIR BIOGRAPHIES! And that probably isn't 1/100th of everything she's done. This week. The woman is amazing.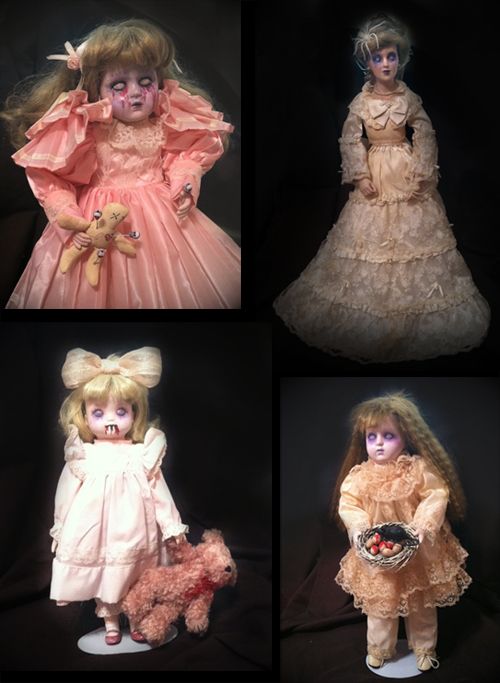 If those are a little too freaky for your taste, and make you nearly wet your pants in fright, don't worry, she also makes the coolest jewlery too!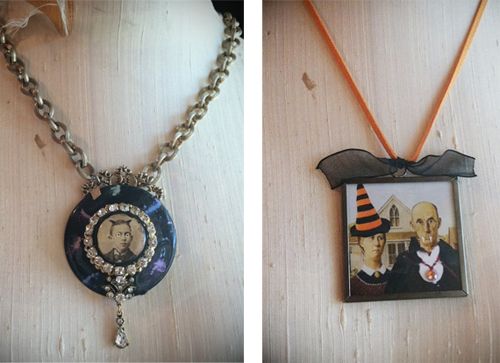 And today she has kindly offered one of her handmade Halloween jewelry creations to one lucky Better After reader!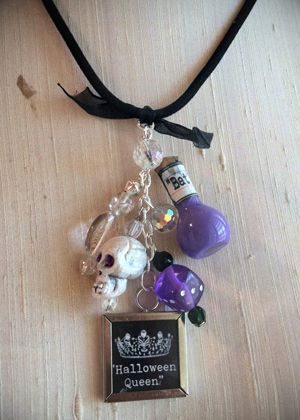 You could win this darling Halloween charm necklace and be a Halloween Queen yourself!  Features a vile of "bat blood," skull with crystal eyes, assorted beads and an altered-art witch in the Starry Night sky on an 18″ black velvet cord.
Enter to win!
To enter once: simply leave a comment here!  
For an extra entry: visit Kelley Smith Original Art & Fabulosities, and come back and leave another comment letting me know you did so!
And, if you'd like to see more of Kelley's art, not to mention the insanely awesome portraits she did of my three children for my birthday (seriously, I have won the friend lottery), visit her
Art Blog.
 Good luck, I hope you win!  Have a great weekend!