It's Friday!  Any big plans for the weekend?  Why don't you dust off your dancing shoes and go out  on the town?  Oh, you don't have any good dancing shoes, you say?  Sure you do.
What about that great pair that has been sitting unworn in the back of your closet for years?  Is it because the color isn't quite right?  No big dealio. Ashley from
Lil Blue Boo
had the same problem and fixed hers up with a fine paintbrush and a steady hand.  She reports they are much more wearable now with the added blue!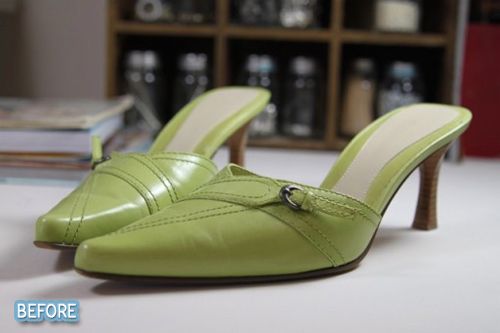 Jen at
Green Wedding Shoes
  fancified this plain pair of heels with a chiffon scarf.  Now they are just dying to go dancing!  You could change the scarf color and have a new pair every night!
Or add a little modge-podge and fabric to perk up some patent leather, like Dave's Wife did on
The Diary of Dave's Wife
.   Add a stripes and sassy bow, and your feet will be having more fun than anyone else on the dance floor!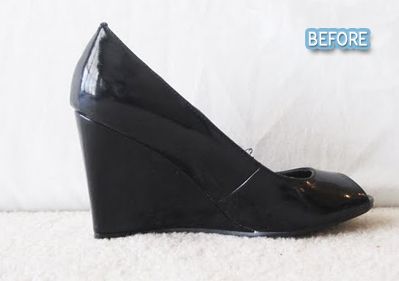 It would be impossible NOT to kick up your heels in these beaded beauties.  Geneva from 
A Pair and a Spare
had her eye on a pair of Burberry beaded heels, bud decided to save herself a boatload of money and made a knock-off version instead.  I LOVE these!  So easy, but
so chic
it almost hurts!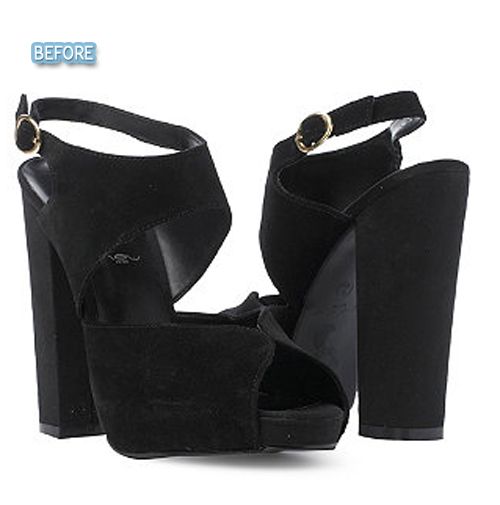 Heels not your thang?  That's ok. You can still cut a rug and catch some eyes in a pair of colorful canvas shoes.  Katy from
Sweet Verbena
took a pair of $5 shoes from Wal-mart, removed the laces, dyed them a sunshiny yellow, and added a bit of elastic inside to keep them put.  I love how the dye didn't take in the bias, it's a fun little bit of contrast.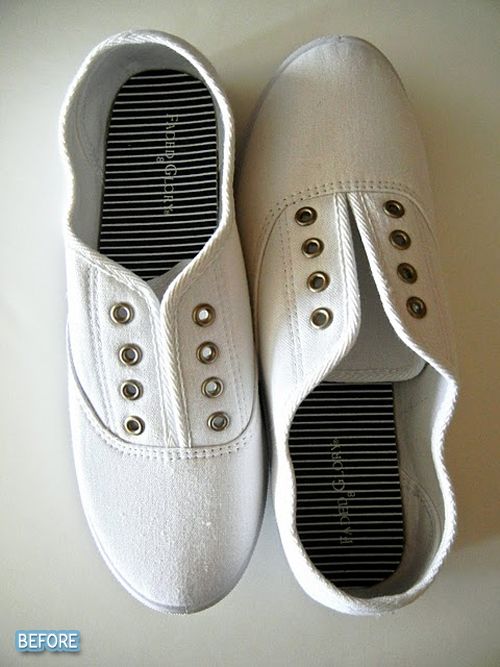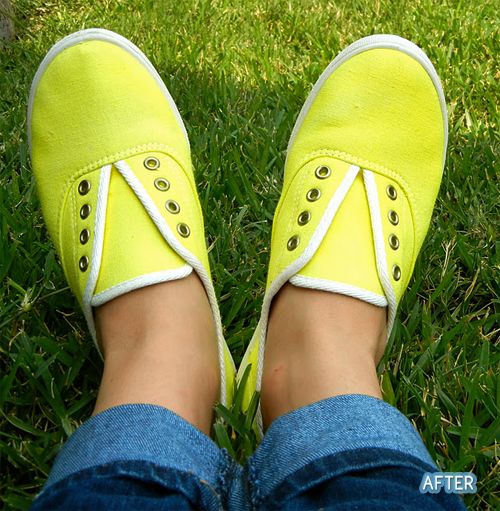 And kids can get in on the fun too!  If you have kids, and those kids have feet, and those feet wear shoes, chances are the toes are worn out.  My kids drag their toes to stop on their bikes no matter how many times I demonstrate how to use the brakes.  
Brittany at
Crafty Mischief
came up with a fun fix: duct tape! A great way to add a little more life to children's shoes if they manage to wear them out before they grow out of them. Check out her blog for the whole tutorial.
And Taylor at
MaryJanes and Galoshes
had the same problem: sturdy shoes, worn out toes.  Glitter and ruffles to save the day!  I think glitter and ruffles could probably solve most of the world's problems, don't you?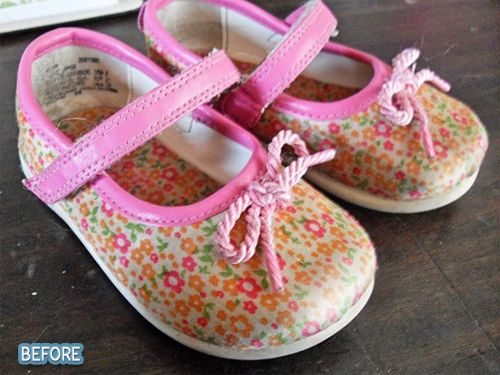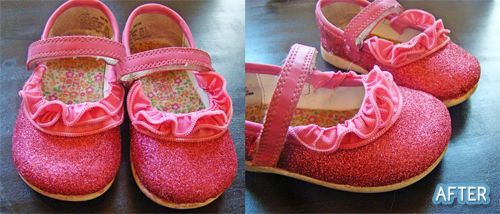 Thanks everyone! 
(Credit where credit is due, I found many of these links from Babble.)