Ok, I truly thought I had already shared the following makeovers by Jeremy and Adrianne from
Dream Book Design
, but apparently I have not.  What I suspect happened was that I found them once online and marveled greatly in their awesomeness. But then, the more I realized how abundant their awesomeness was, I began to berate myself for not being nearly as awesome, and then I probably blacked out in an uncontrollable rage of jealousy.  So you can see how that would mess with one's memory.  Anyway, I'm all better now, so let's check out their kitchen shall we?
When Jeremy and Adrianne moved into their home, it had little galley kitchen.  So they fixed it up the best they could with paint and moulding, but realized they could do so much more.  Like fit a couch in there! Isn't it fantastic?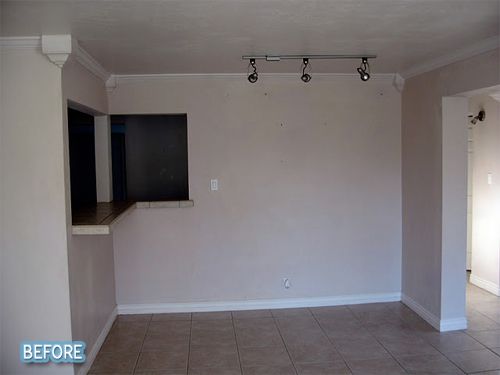 And in another instance of awesomeness, they repurposed this old drafting table into a dining table fit for royalty.  I'm seriously trying to talk myself out of breaking into their house and stealing those chairs for myself.  Um, ignore that last sentence, that was the green beast of jealousy talking. 
See the table makeover
HERE.
Thanks guys!