Hello!  How was your weekend?  Pretty cool and groovy?  I hope so.  
So, were you in band in high school?  I wasn't, but I envied those kids carrying around their velvet-lined instrument cases.  I have zero point zero musical talent, so it was all a big mystical mystery to me.  What's in there?  How do you make it play? So intriguing!
Ann's daughter's case was looking a little beaten and goo-ey, so she thought she'd give it a little more appeal first by de-gooing it and fixing the nicks and dings with a Sharpie, then by adding some fun with vinyl zebra stripes!  I bet all the cool kids will be doing this soon!  Extra credit: can you guess what instrument this case is for?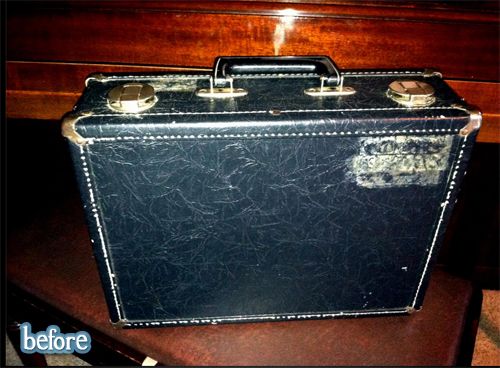 What's that?  You ordered TWO servings of hot zebra sassiness?  Coming right up! 
This chair is Lori's first ever reupholstering attempt and I think she did a fabulous job, even if the experience involved tears and heavy drinking.  Read her hilarious account on her blog
Sort of Creative
.