Ugh!  My blog feed was constipated all week and finally relieved itself yesterday, which you may have noticed by the sudden onslaught of new posts in your reader.  (Many thanks to Nick at
Lindauer Designs
for fixing the problem! What a nice guy. Virtual knuckle-bump!)   Anyway, the whole headache really screwed up my blogging mojo, so I'll just try to finish off this weird week as best I can.  Here we go!
So Laura picked up this dresser on Craigslist, and don't be fooled by its decent appearance.  Girlfriend had all kinds of chipped veneer and warpage to deal with, not to mention a dubious husband.  Aren't they all?  She tamed the beast with Covington Blue from Benjamin Moore, paintable wallpaper and glaze, and the perfect knobs to finish it off.  And her husband was so pleased with the results he even asked her if she'd considered selling it.  That's high praise in husband-talk.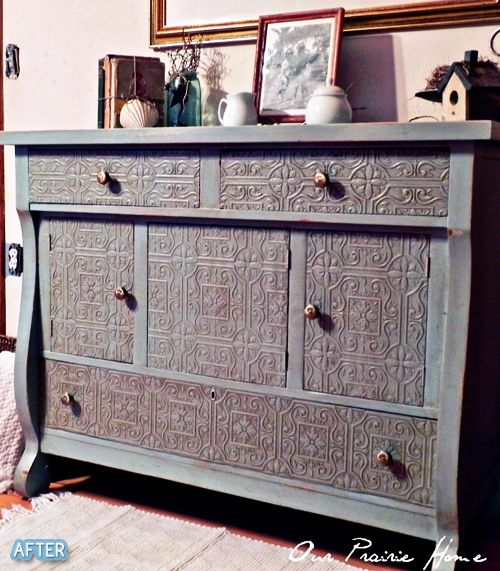 I truly thought Clydia's dresser here was identical to Laura's up there, but that must have been the Halloween candy I've eaten for breakfast, lunch and dinner talking.  But they are pretty similar, and I love how different each of their results are.  The baskets in place of the missing drawers look great, they seem like they've been there all along!  See it on her blog
Three Mango Seeds
.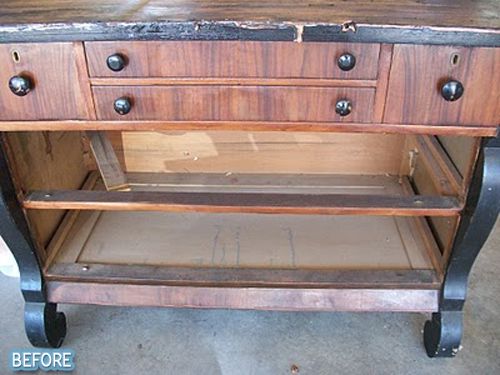 Thanks ladies! 
(and Nick!)