Hey there!  I've got a great giveaway lined up for today!   I'm so excited about it because first of all, I really love this product and I think you will too, and secondly, there will be FIVE WINNERS!

Yes sir, five lucky readers will each win a $50 gift certificate to Mixed Bag Designs! 


When DJ from Mixed Bag Designs offered to let me try a few of their products, I was more than happy to oblige. These bags are fantastic!  They are made from a woven polypropylene, which makes them incredibly strong (most are able to hold 50 lbs) and ridiculously easy to clean (wipe with a damp cloth).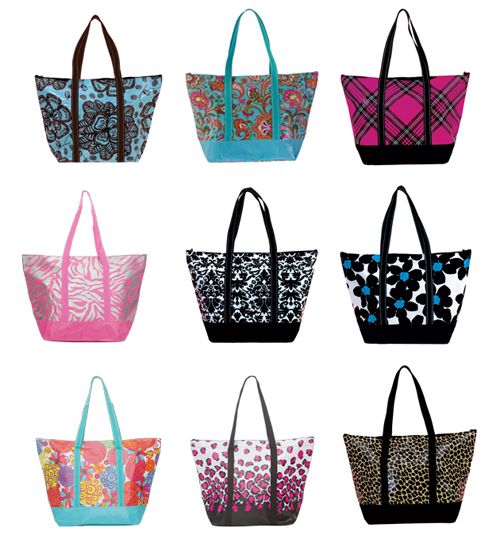 Mixed Bag Designs has tons of cute patterns to choose from. I found myself veering back and forth between the black and white damask and the pink and silver zebra stripe.  So hard to choose!

But what impressed me most was how many styles and types of bags they offer.  

From little tiny cosmetic bags …

To bags big enough to hold a toddler …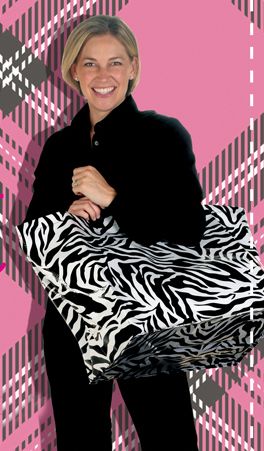 And everything in between! 
(Note: Mixed Bag Designs does not recommend using thier bags to hold toddlers)

Here's a quick rundown:

coolers

tote bags

lunch totes

fashion bags

holiday bags

make-up bags

laundry baskets

sandwich baggies

insulated grocery bags

iphone/ipad cases

shopping bags

storage boxes

garment bags

laptop cases

duffle bags

stationary

and more!
yes, more!

These are a couple of items I especially loved:

The large 'fold n hold!'  I will definitely be getting a few more of these.  I filled mine completely full of scrapbook paper and other paraphernalia, and it was so heavy I worried the straps were going to pop right off.  Nope! Not even close. It held up like a champ and is way cuter than my former scrapbook paper storage solution: a dying plastic grocery sack.
Speaking of grocery sacks, I also loved the
insulated bag
.  It is so generously sized, I could easily fit about three to four regular grocery sacks inside one.  Do they work?  Well, I used mine to bring home two cartons of ice cream from the store yesterday in 105 degree weather (and also kind of forgot about it on the kitchen counter for a while when I got home) and not even a dribble of ice cream had melted!   
AND did you know?  Mixed Bag Designs has a fundraising program for schools and organizations!  Love that!  I'd way rather buy cute bags than overpriced cookie dough.  More info HERE.
ONE OF FIVE 
$50 GIFT CERTIFICATES 
To enter once:
Simply leave a comment here! (please leave a way for me to contact you!)
To enter twice:
Leave a comment here PLUS visit the Mixed Bag Designs online store, and come back and let me know in a separate comment how you might like to spend your $50!
If just can't wait to start shopping, get FREE SHIPPING with the code "better" through Oct. 5th!
Winners randomly selected Monday!
Good luck, I hope you win!