Some items of business to attend to this fine Monday morning:
1.  Look!  Better After just got a facelift!  She's all streamlined and grown up!  What do you think?  Thanks to the fabulous Ana at Liven Design for her web magic and putting up with my nit-pickery.
2.  Get ready, because the Ugly Lamp Contest is about to get underway!  Woo!  More details to come.
3.  Check out this before and after shed from Tracy at General Splendour.  It went from looking like a foreclosed tiki-hut to a high-class country club! It gives me the desire to own a shed, a desire I've never experienced until today.  I think the doors are my favorite part.  Great job Tracy!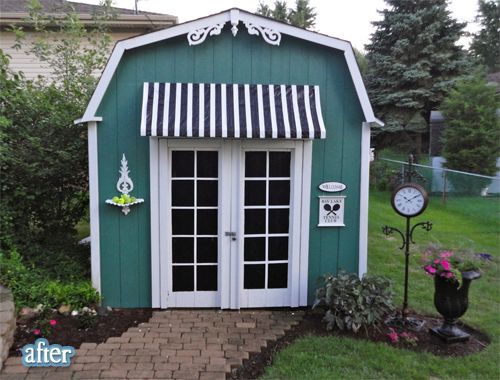 This post sponsored by Krrb.com
Krrb.com connects neighbors to buy, sell, trade and give secondhand and handmade.