Remember that one episode of "Cribs" on MTV, when Moby was bummed because most of the stars who went on  "Cribs" could show off their customized pool-tables and a 40 person jacuzzi, but nobody ever had a bookcase?  I do.  I have a bookcase Moby !  High five me!  And let's offer a high five of solidarity to fellow-reader Heather, who owns a staggering eight bookcases.
Sadly, those eight bookcases were cheapo laminate, but that didn't scare Heather.  She dug right in and painted and primed and beadboarded until they were worthy enough to hold her book collection.   Don't they look expensive?  Wondering where the other four ended up?  Check out her blog DIY Kinda Girl to find out.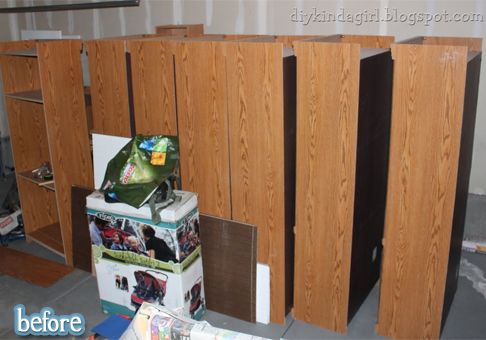 Oh hey!  More cheapity cheap laminate furniture! This ex-entertainment hutch was discovered by Maria, who was hunting for something suitable to hold her dishes. Though it was made of 100% fake wood, she knew it could get the job done and even look cute while doing it.  See more on her blog Yay, I Made It! 


Thanks ladies!
This post sponsored by Krrb.com
Krrb.com connects neighbors to buy, sell, trade and give secondhand and handmade.