I was hanging out with a friend and fellow leader at girl's camp a couple of weeks ago, and somehow the topic of conversation turned to corn.  "I love corn!" she cried.  "I love it in all forms! I really do, I love every type of corn!"  Well, that sounded like a challenge to me.  So I for the next few days  obnoxiously followed her around, trying to think of a single type of corn that she didn't like.  "Popcorn?  Corn flakes?  Corn grits?  Creamed corn? Corn fritters?  Caramel corn? Corn Pops? Cornmeal? Corn pudding? Cornbread? Corn on the cob?  Corn off the cob? Corn chowder? Canned corn? Frozen corn? Cornish game hens?  Corned beef? Corningware?"  She likes them all!
The joke continued after girl's camp, and we emailed her a few more.  "Cornrows? Corny jokes? The band Korn?"  And finally, getting to the point of this entire post: "Cornhole?" As in, the game?    As in the game that consists of a little platform with a hole that you try to toss a beanbag into?  
The very next day I received a couple of cornhole game makeovers, if you can believe it.  A simple slab of wood into utter outdoor fabulousness! Even though this no longer has the slightest thing to do with corn, I'm totally adding it to the list.  From Angela and Debbie at Tres Chere.  (flowered one is HERE)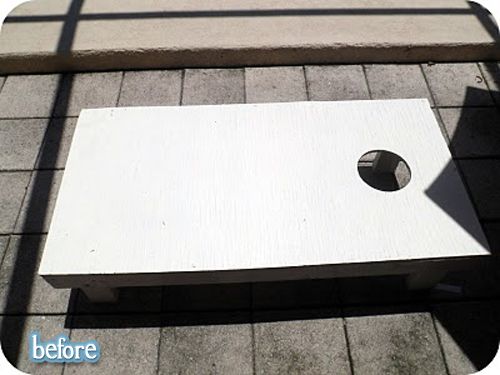 This post sponsored by Krrb.com
Krrb.com connects neighbors to buy, sell, trade and give secondhand and handmade.
 Enter to win by posting your stuff, it only takes a few seconds!