Have I mentioned how I hate knotty wood?  And have a small knotty-wood phobia?  Yes, I have, many times.  There isn't a real name for this phobia, as far as I know, but there is such a thing as Xylophobia: fear of wood and Ommatophobia: fear of eyes.  So I think I shall tell people I have Xylommatophobia, which will probably impress them and make me a big hit at parties.  Or not.
Amanda at Home is Where Her Shoes Are obliterated the knots that were eyeing me down in her coffee table with a dark stain and a contrasting base.  I can't even see them anymore!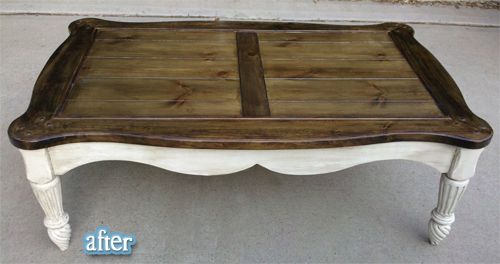 And just for good measure, here is a table makeover from Lizette at Just So Lovely.  This one is not nearly as knotty.  It looks like pine to me, but pine is prone to knots, so what the heck do I know?  Just that I like it better with a deep dark stain and the charcoal chairs.