Once upon a time, there were three gals named Holly, Heather and Molly.  They each had some sort of seating device. Holly had a rocker, Heather had an old piano bench, and Molly had herself a chair.  None of the these things were too bad looking, except for all of them.
So Holly rescued her rocker from the early stages of decomposition and replaced the worn out seat with a flower pot!  So cute, if not slightly uncomfortable.  (ha, I kid!) See it on her blog Hoosier at Heart.

Heather's tired old piano bench looked like something that nobody bought at the church rummage sale.  So she paid a mere $7.50 for it, plumped up the cushion, replaced the fabric (with birds!) and swapped out that lame little support rod thing for an honest shelf. See the process on her blog Feather's Flights.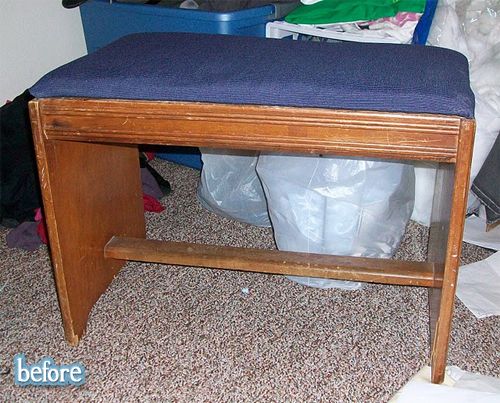 And finally Better After reader Molly rescued this harp-back chair from a trip to the dump with damask fabric and a turquoise paint job.  She gave it some heavy distressing, which helps the chair hold its own against the graphic fabric.  Great job ladies!   

The End!