Beth of Sawdust and Embryos recently shared some of her redos with me, and man, that gal has been a busy bee!  If I churned out even one of these projects, I'd congratulate myself and take a couple of years off.  No, really, I wish I could produce makeovers left and right, but I can't seem to make it happen at this season of life. I don't know how people like Miss Mustard Seed and Brooke at All Things Thrifty do it, but I'm suspecting there's some kind of deal with the devil involved.  (ha!  I kid!)

Anyway, let's get to Beth's fantasticness.  First up, this horrid, HORRID buffet thing somehow turns into a respectable, nay, resplendent changing table!  See more HERE.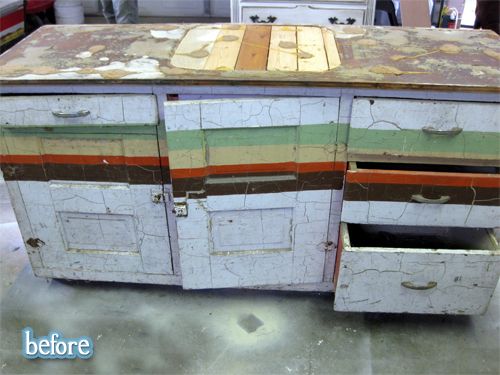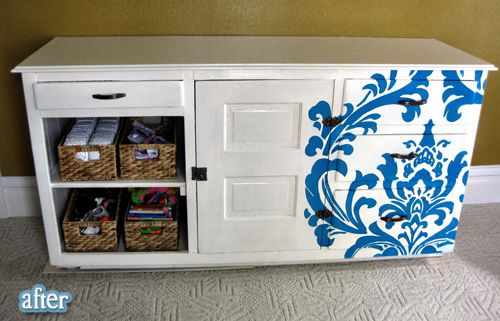 Second, this chunky dresser got the VIP treatment, which is of course, being doused in gold.  That's what I imagine happens inside the VIP rooms, right?  Servants smother you with liquid gold and money falls from the ceiling?  Don't ruin my dreams. 

Anyway, doesn't it look like a Mayan treasure chest or what?  See more HERE.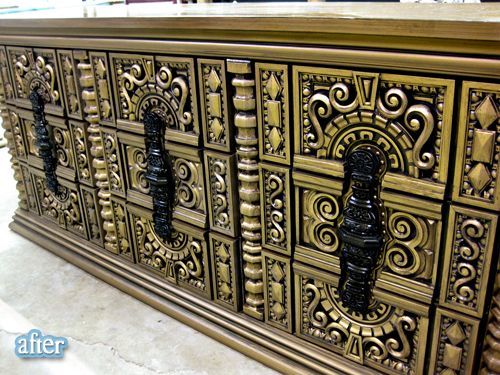 And lastly this yellow hutch looked more like it had a place in the "tales as old as time" rather than the current times, so Beth transformed it from a singing cartoon armoire look-a-like to a bright and funky showstopper.  Notice the swirls on the back?  Whimsical!  See it HERE.  Amazing work, Beth!