Did you wake up this morning and say to yourself, "Dang, I wish I could see a whole bunch of nice two-toned furniture makeovers today, especially those featuring distressed white paint jobs and with darker, naturally stained tops?" If so, consider yourself lucky! And psychic!
First, Lisa from
Recaptured Charm
made over this early 20
th
century Imperial Loyalist hutch. Yeah, those are her words, not mine. Obviously girlfriend knows her stuff. I was planning on rhyming "grime" and "sublime."

No reason the kiddies should be left out of the fun. Check out this

stylin

' high chair from Katie at A Little Touch of Love, and if you are still thirsty for similar makeovers, spend some time checking out her blog, it's chock-full of them! (random side note: a reporter in the newspaper spelled it 'chalk full' last week and I couldn't help snorting in disgust. It's CHOCK-full! Also acceptable: chuck-full. Unacceptable: chalk full. Just so you know).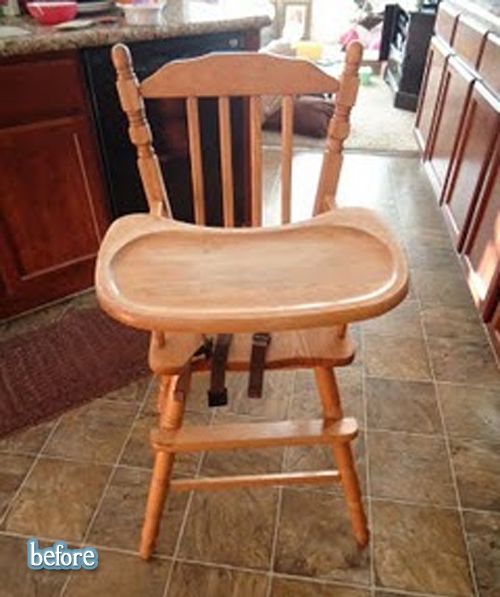 Rachelle gave some life and light back to this dull desk. I love the seven little drawers across the top, even though they are probably just teasing me and are actually three regular sized drawers! You can see it and more on her blog
The Adventures of Burke and Rachelle
.
This classic piece had been abused and neglected and was up for grabs at a flea market until Gloria came around. She revived the thirsty wood on top and gave the rest of it a whitewashed look. A lot more details and great pictures to see on her blog
Potentially Beautiful
.
And finally Lindsay from
Country Girl Home
did everyone one better, and built her table herself! What a show off! Just kidding, Lindsay! I think it's fantastic. She just made up the plan herself, went to Lowe's and bough the wood and built it! If you'd like to try something similar, visit
Ana-White.com
, (formerly Knock-Off Wood), which, if you haven't heard of, is an amazing site. Tons of plans for furniture that you can build yourself, everything from bookshelves to
bunkbeds
, and the plans are very easy to follow. (So easy even I can do it!)