Zebra print, is like, so trendy right now. It's popping up everywhere. But as hip as it is, I think it is also quite timeless. Maybe right now you are thinking of that girl at the gym who wears the zebra print bra under her sheer rhinestoned tank-top, and you are shaking your head in disagreement. (True, I have seen this myself. 'Timeless' wasn't the first word that came to mind).
But forget about her for a second and consider that it is both an animal print, and black and white. Those two looks aren't going anywhere! Also try to forget that a group of zebras is called a harem.
So, get ready for some wild zebra action!
First, a funky old thrift store chair gets a redo from Better After reader Tina. That before fabric design was kind of cool too, but the colors were kind of ew. Looks great now!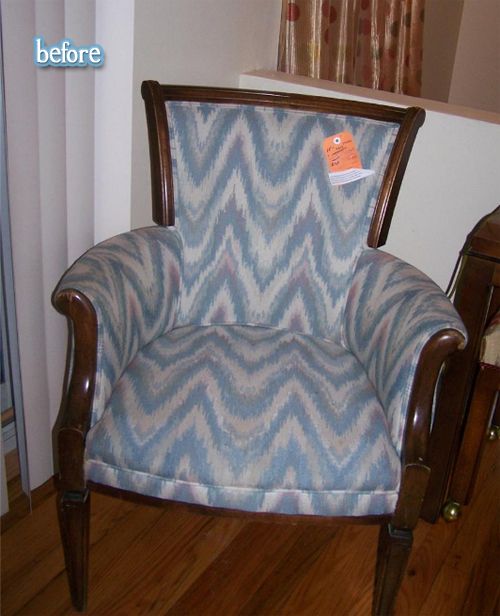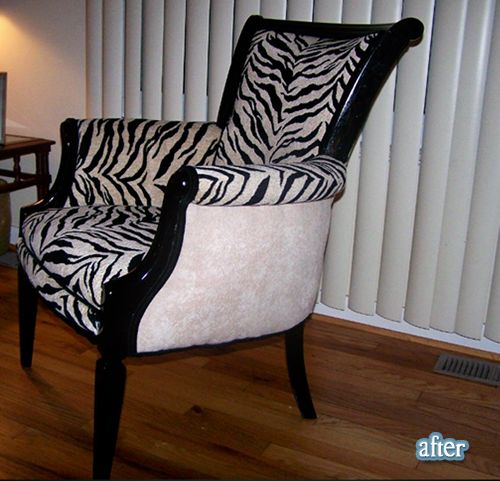 Zebra print lovers aren't the type of people to go beige and boring, nope.

Brecken

decided the zebra print inserts in her wardrobe just weren't enough, so the whole party got painted plum! Check it out on her blog

Junque

.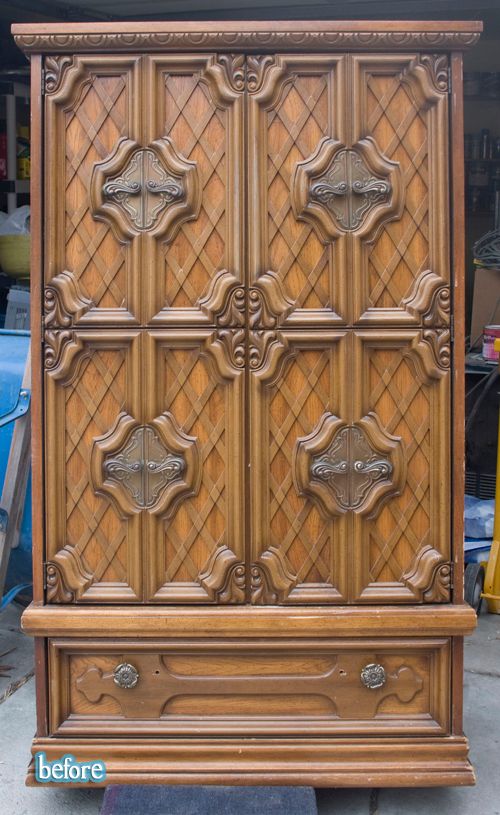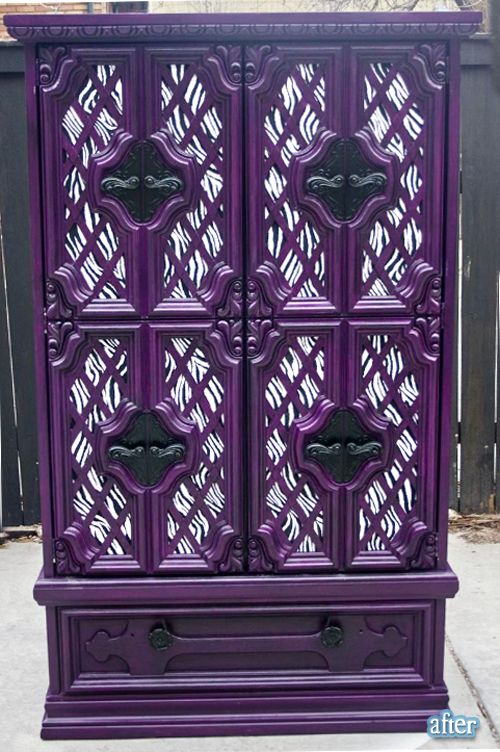 Michelle from
Sweet Something Design
updated this 1929 settee, ensuring that it will stay in style for the next 82 years. Fringed orange velour? Not so much.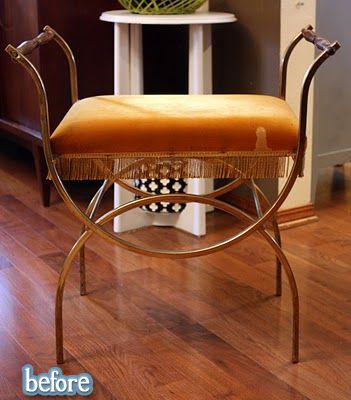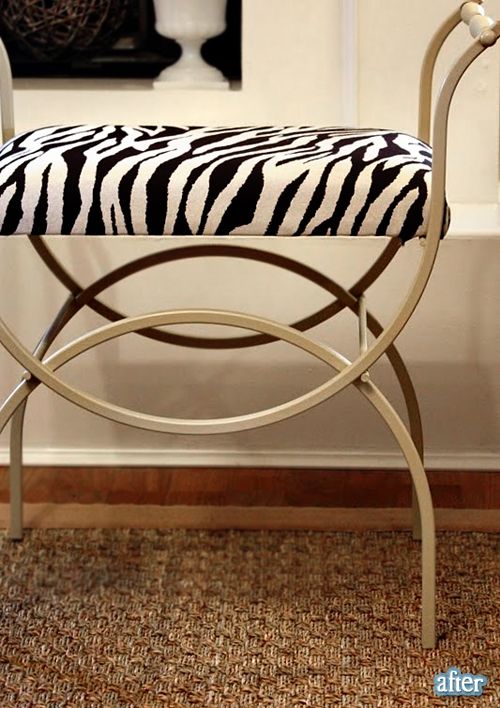 Lucy took on this sad vanity that may have received an ill-advised makeover at some point in its past, because what is with those headlights? Wow. Someone wanted to see their pores up close, I guess. You can get an up close look at the table too on her blog
Lucy Designs.
Check it out to see how professionally painted the zebra stripes are! She did such a detailed job, it looks like the real deal
fo
'
rizzle
.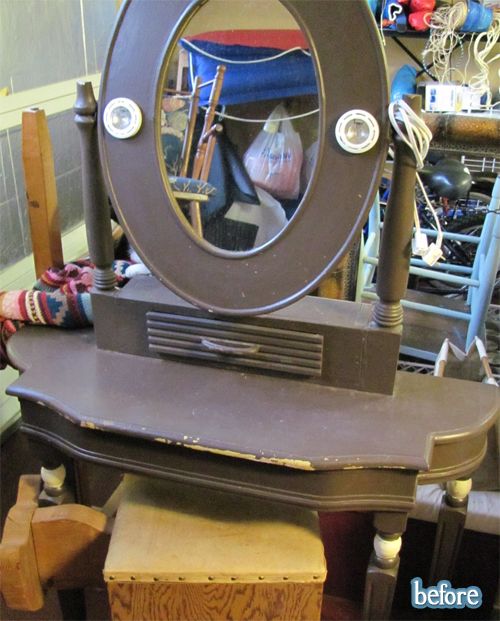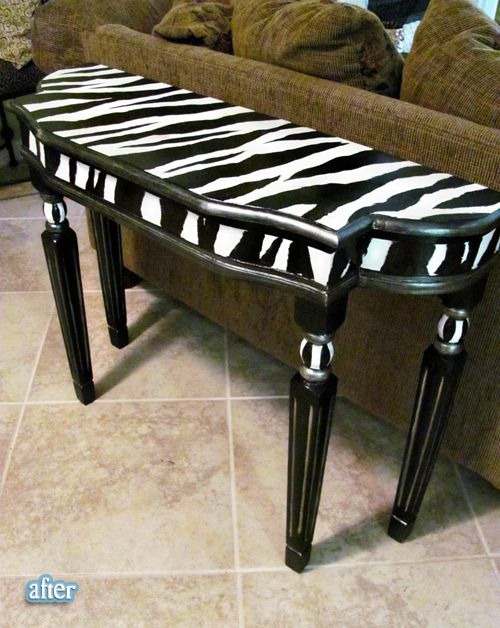 Jessica brought some safari to this sad little stool with a fresh
reupholstery
job. Now it will add just enough punch to any room, because if I know one thing, you don't want to go overboard with the animal print and give your kids some sort of zebra phobia or something.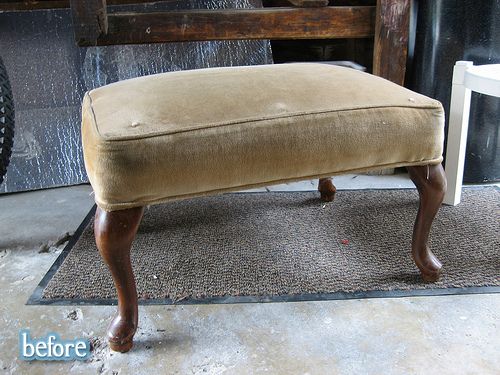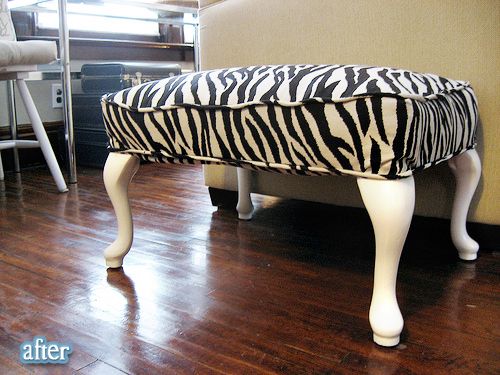 And finally here's an oldie but a goodie from Camila at High Heeled Foot in the Door who literally takes a walk on the wild side every time she goes up her stairs. Ze–licious!
What about you, my friend? Have you zebra-fied anything lately? Or are you over it? Do you love you some animal print, or have a deep-seated aversion? Do you think that horses are jealous of zebras? Do tell.

This post has been brought to you by

PhotoJewelryMaking

.com!