Footstools … are they a thing of the past? When was the last time you saw a footstool for sale in a place that wasn't a thrift store? Never, that's when. Nowadays we have "ottomans," which is actually a Greek term that literally translates into "immense island of sofa." Not really. But I think footstools are quite quaint, and by the looks of things, they are making a comeback!
Deb thought these little beauties had some potential, and double bonus: they are Ethan Allen and she got them for free! Triple bonus: they stack! Take that, space-eating ottomans of the future!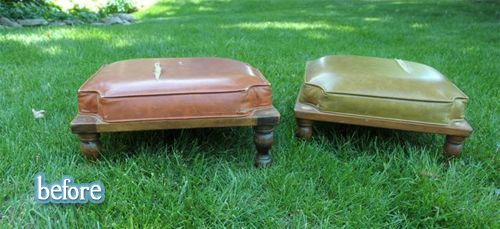 Lindy from
Cottage Hill
had a footstool that was functional and not much else. But it had sentimental value, so she gave it a job promotion and put it to work in the kitchen! Don't you love how it went from distressed to
distressed?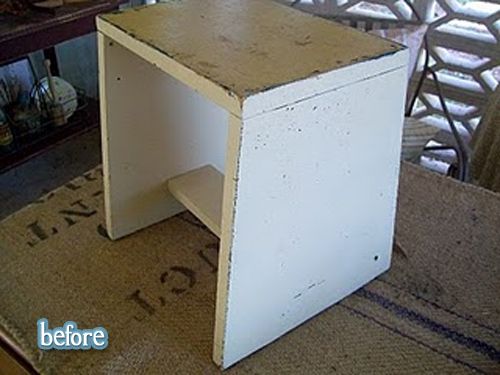 Angie's little footstool totally takes me back. I'm pretty sure my grandma had this same one in yellow many years ago, but I don't recall the handy drawer. Because what makes more sense than a drawer in a … footstool? It was also functional, but a bit of an eyesore, nothing that a little webbing, ticking and
dropcloth
couldn't fix! A year ago, I couldn't have told you what any of those things were. See it on her blog
The Country Chic Cottage
.