Sharon wanted some lighting outside, but was unimpressed by the typical "stick" solar lights that you jam into the ground.
(Yeah, those kind of drive me nuts too. No matter what, they always look crooked. My OCDness can't handle it! I'm going to break into your yard and straighten your solar lights!
Random tangent: One time I thought I was doing my widow neighbor a favor by sweeping off her front porch when she wasn't home, and she actually got really freaked out and called the cops and thought someone was trying to kidnap her. And then she called me and demanded to know if I had seen someone cleaning off her porch, and I was like … um, yeah, me? And she was just baffled that someone would do that. So I never did it again. So there.)
Anyhoo, Sharon took a few outdated light fixtures and created one timeless lightpost for her yard! She just tucked the solar lights into the globes and they light up so nicely at night, no electrical work needed! Check it out here: Keen Inspirations.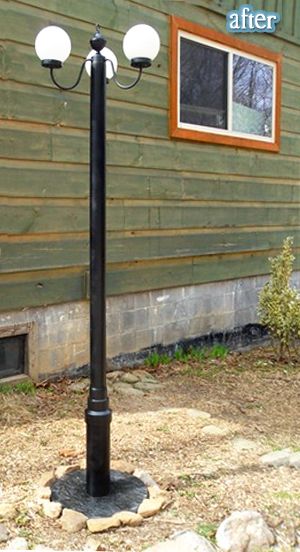 This post has been brought to you by

Krrb

.com!