It's Friiiiday, friiiiday, gotta get down on Friiiiidaaaaay!"
Argh! Curse you and your inane song,
Rebecca Black
!
Sorry. Don't listen to that song, it will get stuck in your head for three days straight. You will hear it in your sleep. And you will weep for mankind, because mankind has horrible taste in "music" and has downloaded this song like 3 million times. ~shivers~



Anyway, let's talk before and afters: Chiara had this overly ostentatious baroque chair. She was not feeling that nursing home drapery upholstery, so she took it to opposite end of the fabric spectrum: geishas, skulls and snakes. Badassery at it's finest. Sure, not everyone's cup of tea, but I highly favor a little hardcore edge vs. pretty, predictable and profoundly lame. (I'm talking to you, Rebecca Black).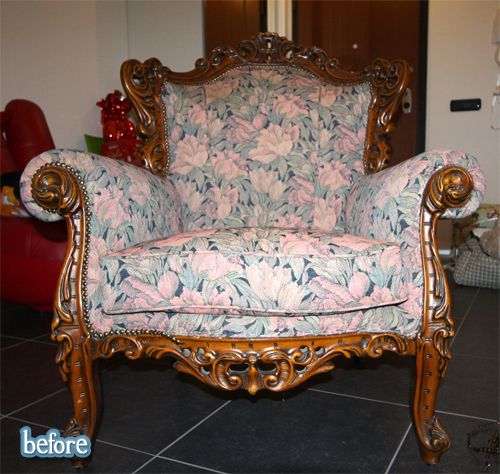 This post has been brought to you by Krrb.com!