Do you live somewhere in the two-thirds of the U.S. that is currently being battered by snowstorms? Then let me just take this moment to bask in the fact that here in sunny AZ, the temperatures are balmy and breezy and I am wearing flip-flops! Don't hate me, I will be envying you here in a few months when said flip-flops have melted to the sidewalk.
So, to make it up to you, here are a couple of great fireplace makeovers to thaw you out.
First from Julie at Thrifty Chic Designs, who beefed up her formerly weeny mantle with a substantial statement piece. Sorry, previous fireplace owners, one sloppy coat of glossy white does not a makeover make.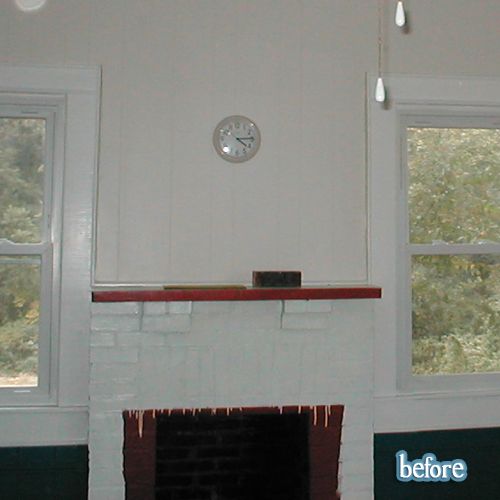 And Melissa's fireplace really didn't have much going for it either, other than a worthless 3 inch deep mantle and that snazzy pink tile surround, yikes.
She replaced it with travertine all the way to the ceiling to make it look like an honest-to-goodness chimney. The wussy ledge was replaced with a chunky wood mantle that came from a fallen tree that Melissa had milled and distressed. Divine!