Please say hello to our newest sponser here at Better After, the lovely and oh-so-talented
Karen Hetzer!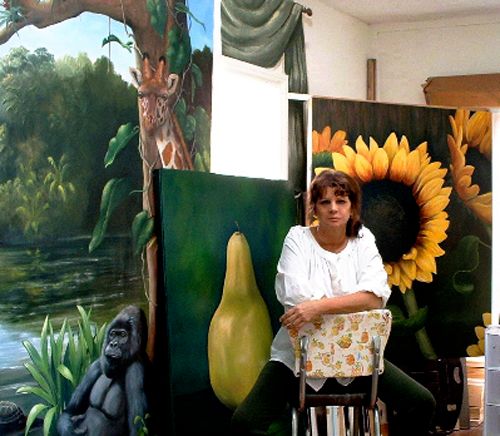 Karen is an artist based in Lake Worth, FL. When she isn't busy painting a commissioned mural somewhere, she enjoys focusing her craft on unsuspecting pieces of furniture to fantas-tify. (made up word)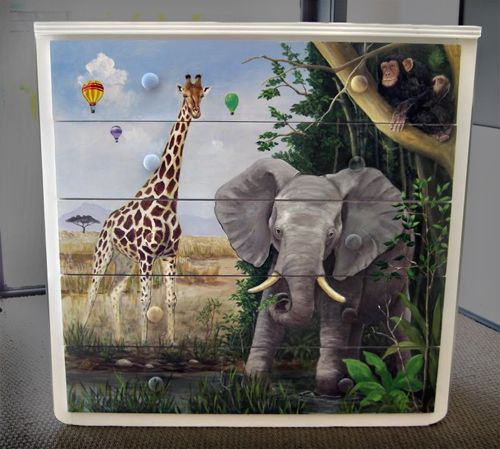 I. LOVE. THIS!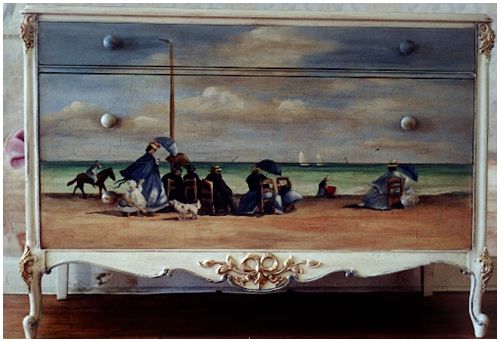 And THIS!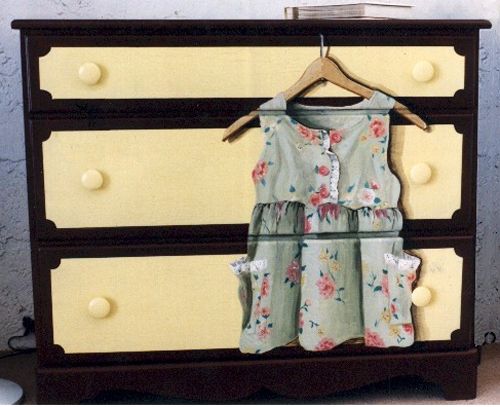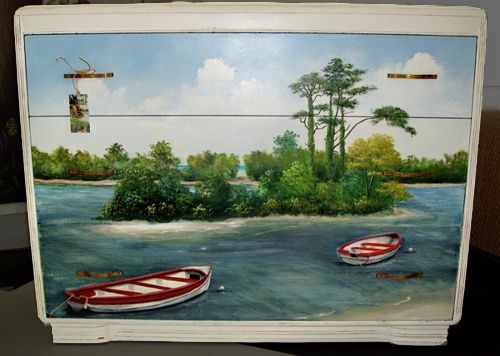 Simply amazing work! Karen began painting fifteen years ago. She is completely self-taught, teaching herself by studying her favorite painters, impressionists, which is evident in her style today.

Her handiwork has been the focal point in restaurants, schools, The Hospital of the University of Pennsylvania, and hundreds of private homes.

She's the real deal. Not to knock the local mural painters around here, but there is this most horrifying mural in a school nearby of what I think is supposed to be a pack of wolves? And they look like rabid housecats. That got backed over by a truck. And the artists kind of gave up by the time they got to the back legs and there are only a bunch of gray blobs back there.

Anyway, Karen would be having none of that. Her work is so realistic it looks … well, real! I stared at this mural for a while because it really looks like Matthew could bonk his head on that red shutter if he sat up too fast.

See that loooong lovely mural going on back there? That would be Karen's work, featured in Florida Design magazine.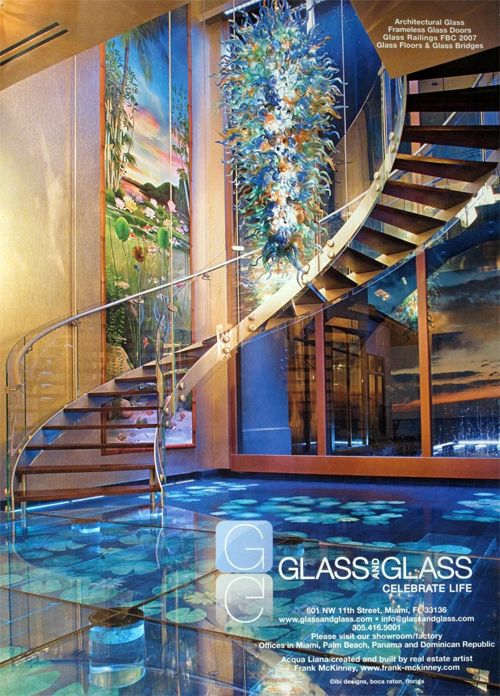 You can see more from Karen by
Visiting her on her blog


Checking out her portfolio

Shopping around her etsy

Or just stopping in to say hi at her studio/shop on 205 N Federal Hwy, Lake Worth, FL

*******

***GIVEAWAY IS NOW CLOSED****

But wait! We haven't even mentioned one of her favorite projects:

Pet Portraits

!

She says, "In the past fifteen years taking on every opportunity to paint, I've painted murals for multimillion dollar mansions and I've painted urinals in restaurant bathrooms. My favorite though has to be painting these fun, mini pet portraits. When I'm painting them I can't help but feel the love the owners have for their pets. Studying the faces of the pets over and over again while painting them, you can't help but feel you know them personally, there's a connection……its a great feeling." 


And, get this folks: Karen has offered to paint a

free custom pet portrait

for one Better After reader! Hoo boy!

Ack, look how cute they are!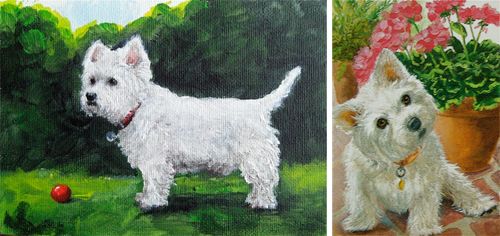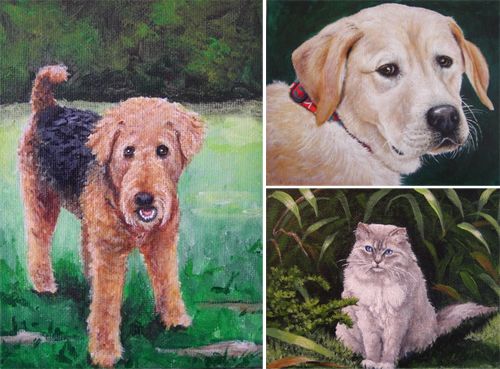 If I could win, I would probably have Karen paint a portrait of my dad's dog Rusty. Rusty is an airdale just like one above, but that one is a little too cheerful to pass. Rusty would be more like warily glaring at you while somehow being bored at the same time. And he has a scar because he likes to fight and he has a missing a tooth because he's kind of a hillbilly.

Here's an example below. Karen used the picture on the left for the portrait on the right and she says she can easily change out the background scene to whatever you prefer, just like she did here. You can also find more info on her pet portaits HERE.
I'm so excited, I really think this is such a neat giveaway!


To enter once: Simply leave a comment here. It's not necessary, but I want to know about the pet you'd choose to have painted!


To enter twice: Visit Karen's blog and become a follower! (come back and leave another comment letting me know, pretty please)


To enter thrice: Blog or facebook or tweet or whathaveyou and tell your pet-loving friends about the giveaway too! (don't forget to come back and tell me)


And please don't forget to leave your email or a way to contact you. Winner will be chosen Monday morning-ish. Have a great weekend!