Got a bunch of old frames or trays laying around? Well, lucky you! Because there are a bunch of uses for them! Here are a few ideas coming atcha:
Jamielyn from I Heart Naptimes wasn't really feeling this tropical scene or the ornate silver frame that came with it, an odd pairing to be sure. So she got some fabric and batting and made a be-ribboned ribbon holder instead! C to the UTE.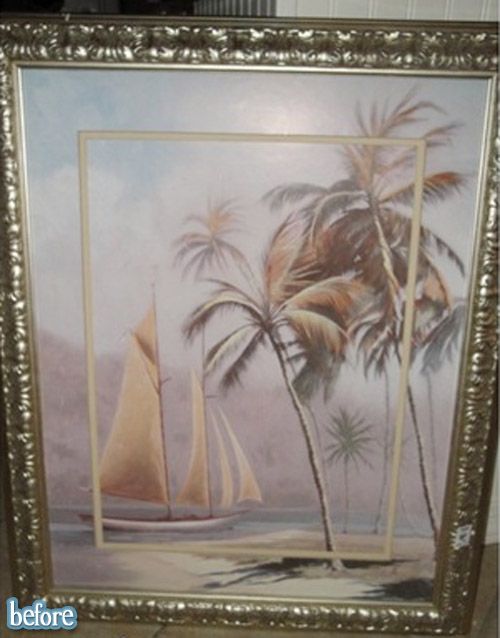 Karla found a fun $3 tray with an removable insert! Oh, the possibilities. First things first, she removed that golf-themed needlepoint (yet another strange combo… I mean golf and needlepoint? Huh?) and swapped in some lovely fabric. Fabulous! See it on her blog
Sugar Bear Designs.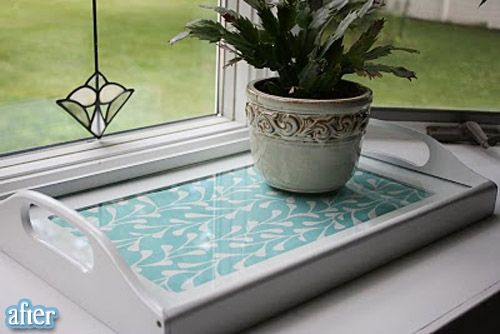 And finally Jessica opted for a sweet and simple chalkboard for her formerly gold-framed still life. Let's hope that wasn't a priceless painting.
Hmmm
, I doubt it. See this plus her cute
chevron tray makeover
on her blog
J+J
.
(On a totally unrelated note, but  I just discovered as I tried unsuccessfully to type that + sign over and over, if you press Ctl and then press the + key, your screen will zoom in! Ok then! Carry on!)