It is a freezing, frigid Friday here. Actually it's Thursday, but that throws off my alliteration. But it's cold and blustery and I just want to put on my jammies and get back in bed. Plus, extra bummer, all of my family that was supposed to come visit me for the new year are all snowed in up in the mountains. The Allen family New Year's celebration might just consist of us clinking styrofoam cups together as we watch the clock on the microwave.
Anyway, enough whining from me! Are you trapped indoors too? Now would be a great time to wander around your house with a little notepad in hand. Take a good look at your furniture and decor. Sketch some notes on what you've got, what you don't got and what you don't need. Rearrange.
Take note of what windows could use some treatments. Maybe that extra bench that just isn't working in your living room might make the perfect tub-side table! Is your baby potty-trained but you are still hanging on to the changing table? Make a note to sell it on Craigslist or set it aside for a yard sale when the weather warms up. Measure that weird cubby space at the top of the stairs and write it down. That way, when you are out and about and discover the perfect little dresser in a thriftstore, you can know right away if it will fit. Been meaning to get slipcovers for the sofas? Measure them today! Write it down, keep it in your little notebook.
Make plans for what you'd like to bring into your home in the new year and what you could stand to get rid of. Nothing like an organized, fresh start to a new year!
And speaking of tub-side tables, here's some great inspiration from Alaina at
Recycled Interiors
.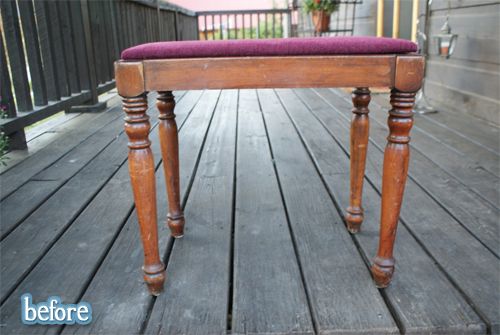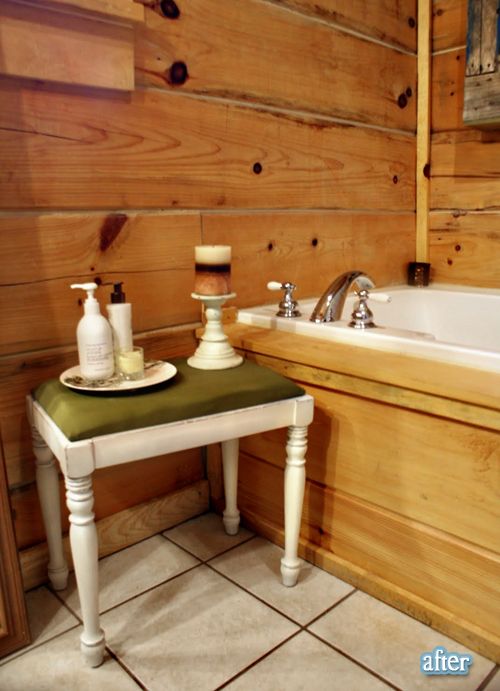 And a cute weathered telephone table too! See it on her blog HERE.