Its no secret that I suffer from bland-u-litis. Too much of my house is neutral, wheaty, oatmeal, ecru, beigey boringness. But I'm slowly coming around and embracing color and contrast. This dining room from Jen at
Easy Peasy Chic
was slightly snoozy too. But with some new accents, not to mention the great wainscoting and ka-POW of a red wall, it is now sufficiently striking!
I also love that she sent that ficus packing. Do you still rock a droopy plastic ficus plant in the corner? It's ok, just about everybody has done it at one point. But I think it's finally time we collectively bid the ficus a farewell, what do you think?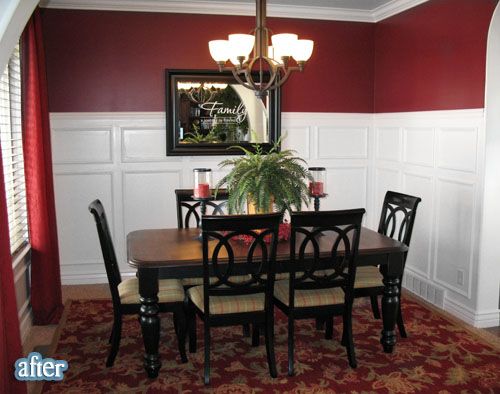 And now for a few items of business:
Did you hear that I recently discovered a lot of your emails have been going into my junk folder? Ack! I'm sorry! If you sent me an email and never heard from me, please send again! I promise to be more vigilant before I purge my junk folder.
AAAAND, here's a note from Pam, my lovely Shaklee sponsor. Check out the great specials Shaklee is running right now! I'm a big believer in Shaklee products, love LOVE them.
****
Shaklee
has extended their "Join Us" $19.99 membership
free
with a $70 order.
Click
HERE
 to learn more.
For those interested in
Shaklee's
"Business in a Box," Shaklee is currently offering six months of free personal website with the purchase of a Gold Membership. Click
HERE
 for more info.
And don't forget about the
December Special
,
FREE LIFETIME SHAKLEE MEMBERSHIPS
with a order over $70 (member price)
A Get Clean Starter Kit qualifies!
A membership gets you 15% off all Shaklee products and there are no minimums to keep your membership!