Easiest
makeover
in the world: Step one – photograph bathroom. Step two – photograph bathroom with the toilet seat down. Instantly better! Nothing
de
-classes up a picture faster than a gaping toilet bowl staring you in the face. Be honest: was it the first thing your eye went to?
But the after, so simple so chic! Toned down paint, sophisticated accessories (bye-bye plastic bucket toilet topper, hello lovely
backsplash
!), and yes, closed lid! This is a great example of how to update a room when you can't do much about its size or layout. More from Crystal at
Beautiful Haven.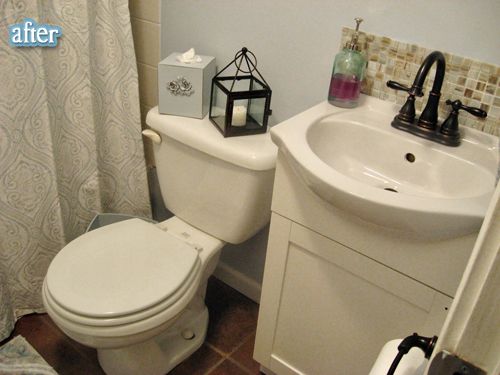 Another quick and easy bathroom update that I've been wanting to try is to replace the standard white plastic flusher knob with an elegant chrome or bronze (or whatever matches your current fixtures)
ala
Holly's powder room redo from
Life in the Fun Lane
.
Admittedly
there is a lot more going on in this redo (if you can even see it because you miraculously haven't already been blinded by the wallpaper) than that measly little knob, but I think it adds such a classy finishing touch, don't you?