This before chair was rocking a … cheerful look. So much stuff is going on in that fabric I feel like it should have come with a big fat storybook for an ottoman or some such.
I see a homey little log cabin flanked by a tree which is growing some mauve-colored fruit, a pair of sheep, a bunch of chickens, a dog, a bucking horse, more chickens, a pond, a dead tree, still more chickens and … is that an evil polar bear lumbering over the hill, coming to destroy the whole happy scene?! Or is it the ghost of the original homesteader, coming to stake his claim from beyond the grave? What's going on?! How does it end?!
Barbra from My Pocketbook and Me was probably tired of asking herself these questions, so she reupholstered the chair in a demure damask. Lovely! But now we will never know the rest of the Epic Fabric Saga. It's probably better that we don't.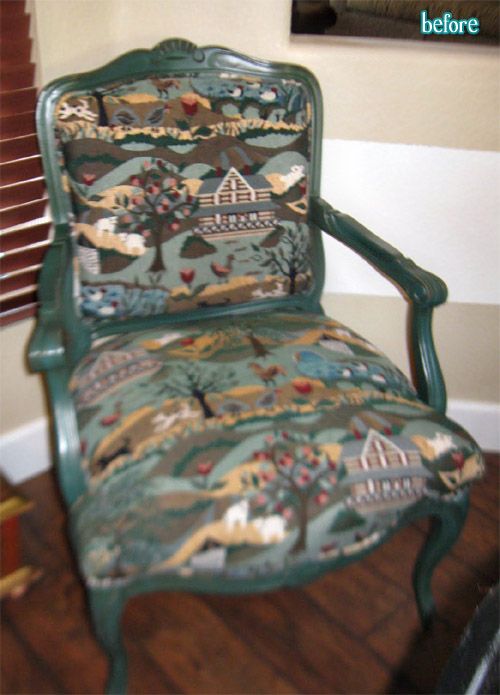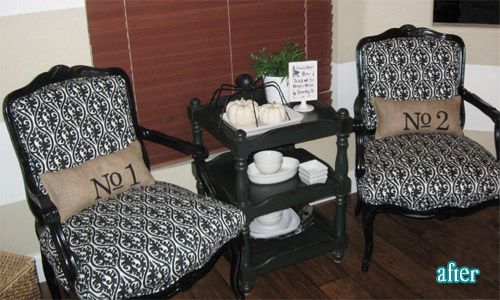 83 pages of tips, instructions and pictures for only $10!
Download your copy today!

***
I have personally read this ebook and am happy to recommend it,
and I am totally not just saying that because Better After is name-checked in it! What what!

***