This redo comes from
Chiara
in Italy! Ciao
lettori
italiani
! Se ti ha
impressionato
con la
mia
capacità
di
parlare
in
italiano
? Non
essere
,
devo
tutto
a google translator.
Così
li
biasimo
se
questo
non ha
senso
a tutti!
Anyway, it looks like some misguided sole had decided to "update" this antique dresser by adding on some cheapo white handles, the kind you might find on public bathroom stall. Not a good look, my friends.
Chiara
figured if you're going to do something, do it all the way baby! So she jazzed up the whole entire thing with silver leaf and accessorized with some hot pink frames. I love the funky silver surface contrasted with the dresser's ladylike shape, but I'm still unsure about those handles …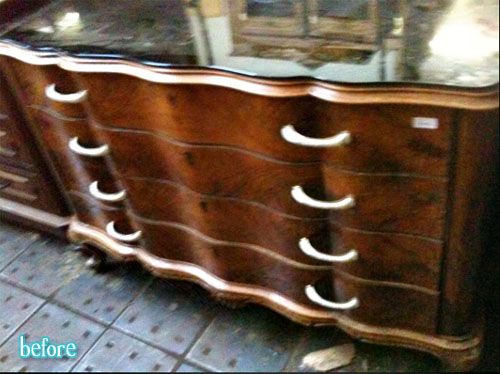 And hey! Did you notice the old blog got a little freshening up? Nothing drastic, as I will probably have my leg header until I die (I love it so), but now I hope the layout is easier to read and navigate.
Click on over to see if you are subscribed in a reader! The fabulous
Jayna
Haws from
Friend of a Friend
is to thank for the new look. She does it all, buttons, backgrounds, blog overhauls, and she was so super nice and easy to work with too! Check her out here: