Well hi friend! I'm back! I sure hope you missed me a little bit! I received so many wonderful comments from you over my break and lots of great suggestions. The major consensus seemed to be … that you like the blog just the way it is!
So that's good news for me, because I am pretty much lazy. But there will be a few little tweaks coming in the next few weeks, so get excited. Or don't. But you can get excited about the cool giveaway that is coming up later today! Yeeeeah baby! (Pretty sure no one quotes Austin Powers anymore. I apologize.)
But not yet. Because first here are some sweet table redos coming atcha!
Let me tell you, I have dining tables on the brain because I'd been scrounging around craigslist looking for a new one for a long time. I finally found one last week, and it was really cute, distressed white, solid wood. So I bought it, got it home, THEN realized that the top of the table is NOT solid wood, just some weird laminate stuff that had a few scratches in it, which had bubbled up from moisture getting under there. Ugh.
So I had this conversation with myself:
"Why didn't you notice this weird laminate top until AFTER you had bought the table and brought it home?"
"I don't know! I get nervous! I don't like standing around stranger's homes, inspecting their furniture! It appeared to be stable and hadn't been in a recent fire, so I took it!"
"You are so lame sometimes."
"I know."
So the moral of that long and pointless story is, do you know how I can fix this stupid table?
AAAND now, here are those table redos I was talking about so long ago … first from Patty at Nuestras Aventuras en Texas. This table serves as inspiration that "old and dated" is only a coat of paint away from "classic and chic!"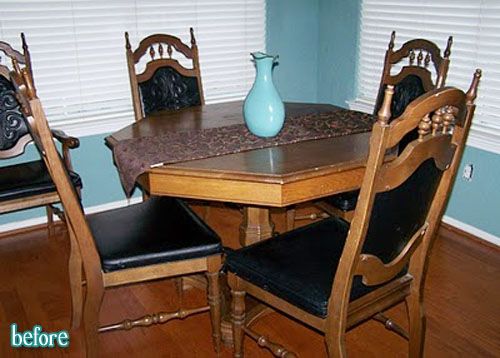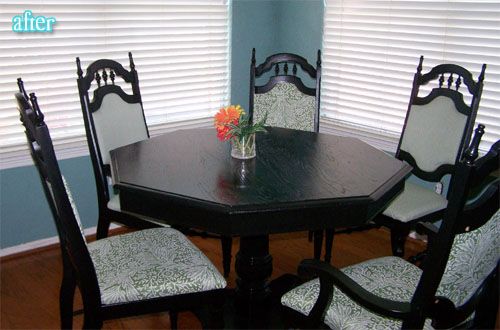 Woah. Can this table possibly be saved? It is so country I expect it to grow arms and start playing the banjo any minute now.
Christina knew there was hope (didn't hurt that her solid wood table was ACTUALLY solid wood) so she sanded the snot out of it and stained it into deep, dark loveliness. You can't even notice the heart cutouts, but I think it would be cool to find some sort of applique to cover them with as well. Maybe even a small ceiling medallion?
See more on her blog Christina's Adventures.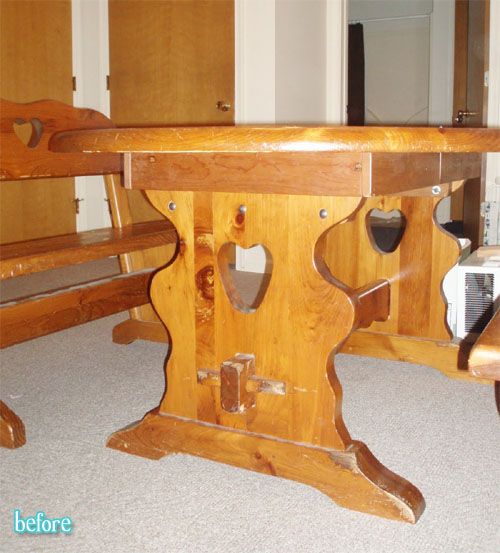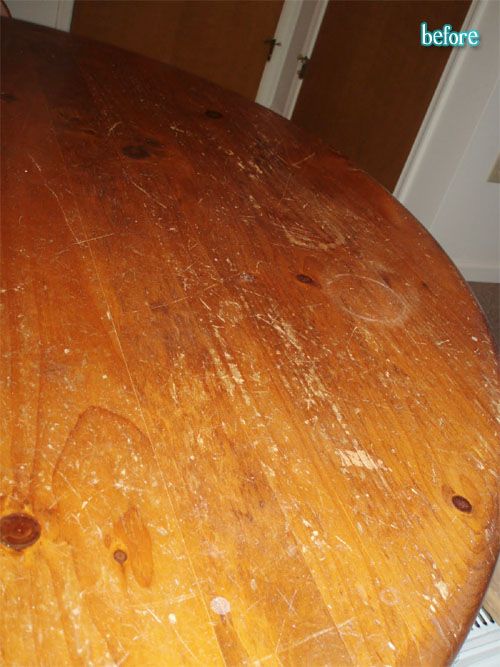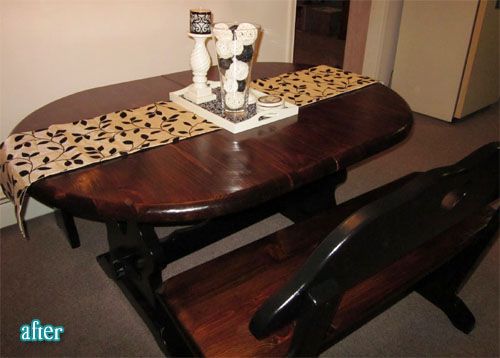 And here is some more staining action coming your way from Sloane at
Eleven.49
. See, not everything has to be repainted! It looks brand new.
Thanks so much for sharing ladies! Be sure to stop back in later for the giveaway!