Hi friends! Well, my kiddos have fall break right now, so I decided I'd give myself a fall break too!
I'll be back in a week with all new before and afters for you. And to be honest, I need a bit of a break. Sometimes I feel trapped within my blog. It's very content specific. You come here to see before and after pictures! So that's what I serve for breakfast, lunch and dinner, all week.
But I would love to branch out a little more. Not a lot! I'm not nearly that creative or crafty. But I would like to get to know you — my dear reader — better, and I'd hope you'd like to get to know me a little better too.
So, I am welcoming any and all comments and questions! (Preferably of the kind and helpful variety).
What would you like to see more of? Less of? Anything specific you'd like to see here?Any burning questions you've been itching to ask? Would you prefer that I not use the words burning and itching in the same sentence?
I would love to hear your feedback.
I would also love to spiff up the blog design a bit as well, so if you can point me in the right direction, that would be appreciated too.
So, for now, I thought I'd introduced you to my family and answer a few of the questions I have been asked lately. I hope you enjoy!
This is what I look like:




Where are you from? I grew up in Arizona, but lived in Utah for a short time too, specifically Cedar City, where my husband and I went to college. Now we live west of Phoenix and are just trying to survive life with our three mildly rambunctious kids. ('Mildly' is putting it mildly).


How old are you? I'm 29, so big plans better be in the works for next year. (hint, hint friends and relatives).
How did you get the idea for your blog?
I've always loved before and afters, (who doesn't!) and my mom was probably getting sick of me calling up and being like "ok, you have to go to this website, click on this tab, scroll down until you find this one post, nope, check the archives… there! Do you see it? Isn't that the coolest thing ever?!) So I started sticking them on a blog. Early versions of Better After included a mascot. It was a sheep. Get it? BaA? Yeah…


How did you and your husband meet? My devilishly handsome husband Matt and I actually grew up in the same little town in AZ, although we didn't date until college. He ran with his crowd and I ran with mine, let's just say. His crowd was the type to take off their shirts at prom and dance around in their bow-ties like Chippendales, for example.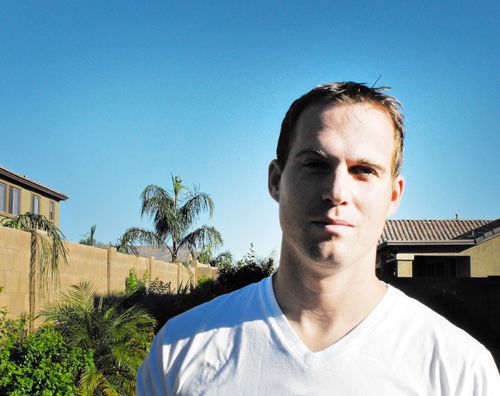 Um, he's totally not like that anymore. He's very supportive, although he remains a bit mystified about all that is the blogosphere. Won't you wish him happy birthday today?
What does your husband do? He's the assistant principal at a high school in Phoenix. Now he's the one busting kids at prom, ha ha!
How many kids do you have? We have three, two boys and a girl. None of our kids are what you might call … calm. Or quiet. Not a one.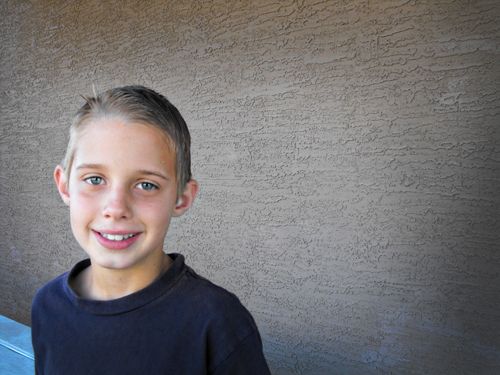 Blake, the big brother. Likes reading, sports and making money. He's digging through his toybox right now to have himself a little yardsale.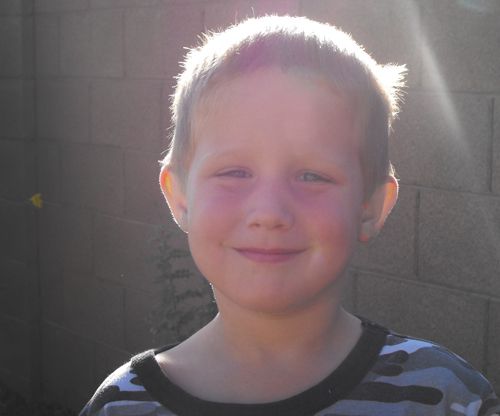 Koy, the middle child. This was the only picture I could get of him: he does NOT stand still. And he needs a haircut. And he REALLY likes wearing camo. He loves to help me bake and can usually be found wearing the oven mitts around the house.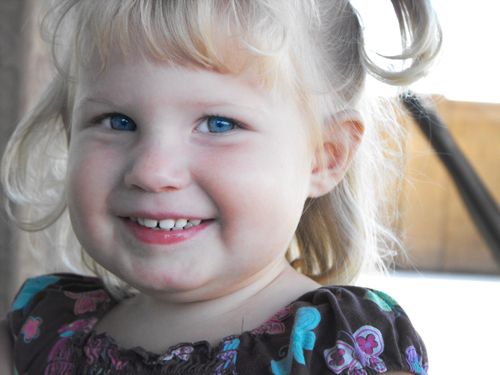 Mia, the little princess. She can go from this…
to this in a heartbeat. Especially when there is food involved. She is angry that I took away the carton of ice cream she had helped herself to. "I had my pink fork out and everything, MOM!"
Do you photoshop the pictures you post on your blog? Sometimes I do, mainly to crop out clutter in the background, or else I might remove an electrical cord or something that is distracting.
And yes, I did photoshop myself in my picture. The zit fairy has been especially unkind to me lately. Just keeping it real. But don't plan on seeing the original picture anytime soon, I'm not keeping it that real!
Here's a little photoshopping before and after for you, cuz that's what I do: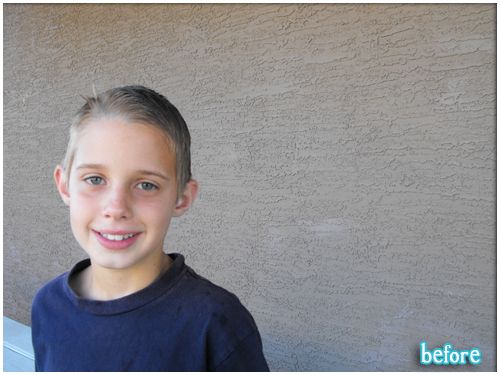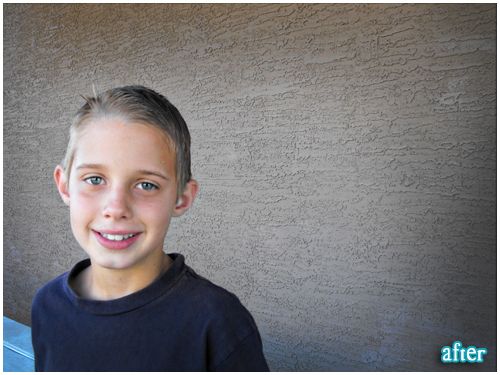 So, that's us in a nutshell. If there's anything more you'd like to know, ask away!
Would you like some photoshoping tips and tricks? (I can help!)
Picture taking advice? (Yeah, don't ask, that one is NOT my strong point. Did you see my pictures up there? I don't know if the camera is supposed to be facing the sun, if the subject is or what. And Koy dropped my camera so it is being held together with electrical tape).
Just stick to the before and afters? Let me know your thoughts!
I'd love to hear from you and I'd love to hear your ideas on improving my blog.
Thank you so much for reading! I'm so grateful to have you here and love each and every comment and email I receive. Have a great week!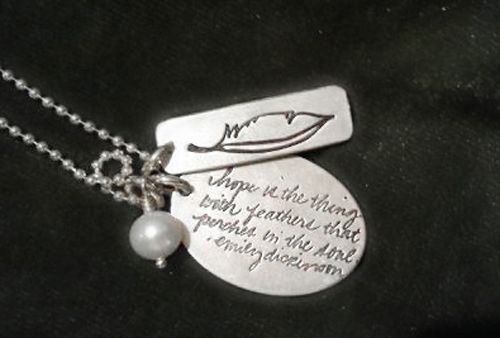 Loving my hopeful new
Lisa Leonard necklace
, which I was planning to wear in my picture, but I left it at my grandma's! Gosh dang it!