I am … not really sure what this desk is all about. It looks to be antiquish. There's that flip-up part, but it doesn't really make sense as a vanity, because Molly added the mirror herself in the after. Why would an antiquish desk need a flip-up thing? (try not to be amazed at my technical jargon-speak). Not to keep a keyboard in, obviously. To efficiently clean clutter off of one's desk in one quick sweep? To deter really dumb thieves? I'm confused.
Anyhoo, like I said, Molly made up her mind that this was going to be a vanity and added the mirror and decoupaged some cuteness inside and now it makes much more sense. See it on her blog Pieces of Molly.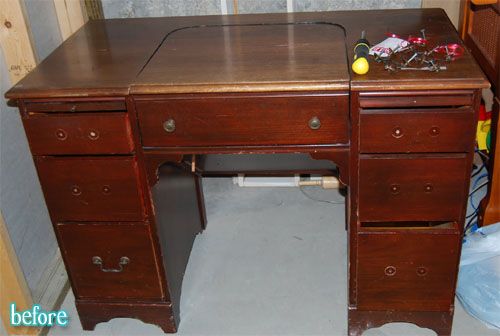 Patty took her top off to make this dramatic desk redo possible. Not like that, pervs! She took the top off of this desk and replaced it with an abandoned leaf from another table! I like how it went from pastel and … well sort of babyish, to all grown up and stately.
More to see on her blog Nuestras Aventuras en Texas.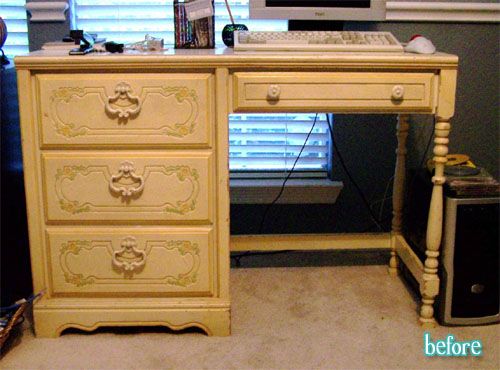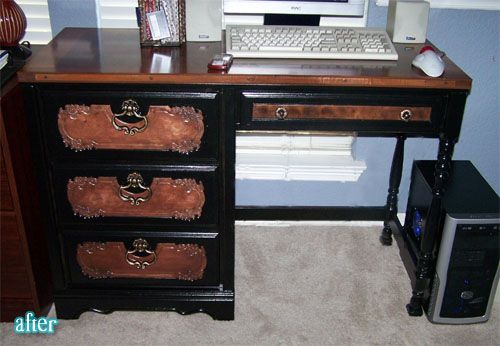 Belinda found this little desk at a flea market and transformed it from unremarkable to unforgettable with a little help from everybody's homeboy, black paint. And I do believe that is fabric mod-podged right on the drawers. Straight up nifty, yo.
See it on her blog, The Seam Rippers.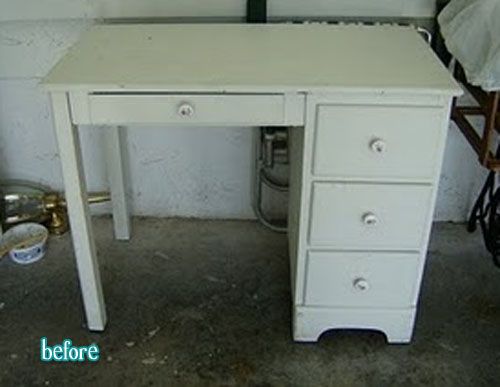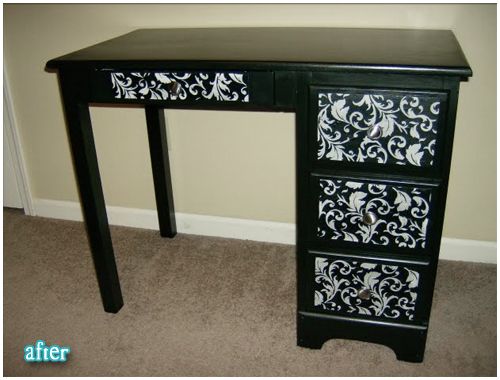 Isn't this one lovely? From Kathleen at Between Blue and Yellow. Once again I stand upon my chair and applaud the fact that she used the original hardware. Anything else looks so out of place on a piece as clearly timeless as this. Can you imagine it with stainless steel rod knobs from IKEA or something? (I'm sorry IKEA, you know I still love you baby).
Thanks ladies!