This before dresser is … a little creepy. Probably only to me, because when I look at it for too long, it kind of looks like an owl face, and have I ever told you that OWLS are TERRIFYING? The way they tilt their heads and look at your with their big weird eyes and blank faces, and then they can swivel their heads all the way around and that's weird too, and I'm pretty sure owls want to kill all humans.
So what a relief to see this fantastic makeover from Shelbie at Making it Mine, because now I just see a fabulous dresser.
And check out her great desk redo too, I am IN LOVE with that chunky bottom. Um. Yeah. That sounded a little grosser than I intended. Click HERE for a closer look!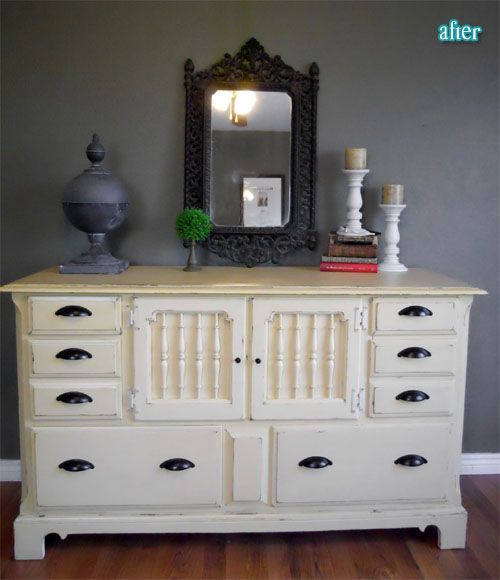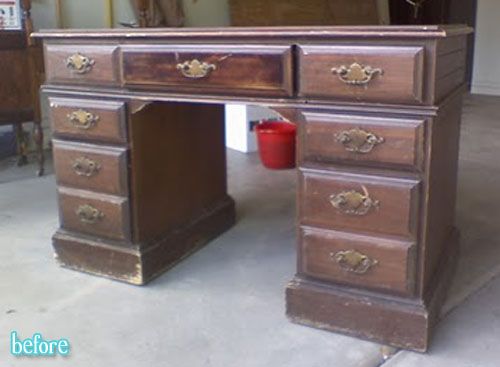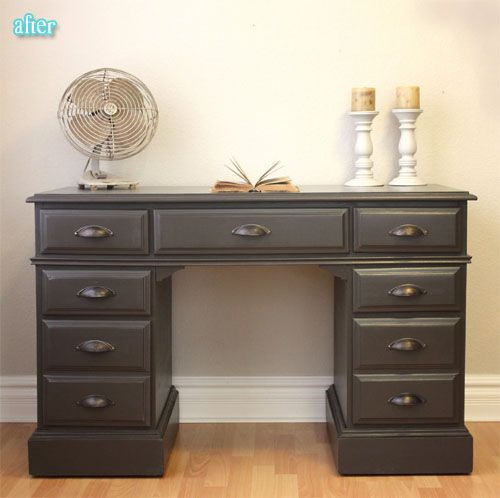 See what I mean?
Chunkay
!

Oh hey, and while you're here, have you ever wondered about painting furniture?

Sure you have.

Wouldn't it be great if you had a foolproof guide, giving you step by step instructions

and tried and true tips on getting the very best results?

Sure it would!
How in the heck do I "glaze?!"
To sand or not to sand?
What kinds of tools do I need, yo?

Well, Mandie at

Altar'd

has put together all you ever needed to know about painting furniture in an e-book you can download right now!

Everything from how to find that perfect

piece

of furniture to swiping on the final coat of poly, plus tips and tricks she's figured out along the way.

For instance … "Tip: If you don't have fine sandpaper on hand, a brown grocery sack is the equivalent of fine sandpaper and you can just tear off a square and use it on your furniture to smooth the surface." 

Who knew?

83 pages of tips, instruction and pictures for only $10!

Click the link to download your copy today!
I have personally read this

ebook

and am happy to

recommend

it,
and I am totally not just saying that because Better After is name-checked in it! What what!