I'm so excited to show you the first group of Ugly Lamps! I've broken them down into three parts so you don't become overwhelmed by all the ugliness at once and go blind or anything. We wouldn't want that. 
 Please cast your vote for the entrant you think is the ugliest lamp you've ever laid eyes upon over there at the poll on the right-hand side of the blog.
 The top two winners of each bracket will then go head-to-head in a final vote-off for the grand prize of one $70 gift certificate to
CSNstores

.com
and the proud title of "Ugliest Lamp Ever!" 
Ok
, hold on to your hat. Here they come.
I just had the best idea! It's a lamp, shaped like an ear of corn! Painted red! What DOESN'T make sense about that?!

Because you just never know when you're going to need an extra palm tree plate.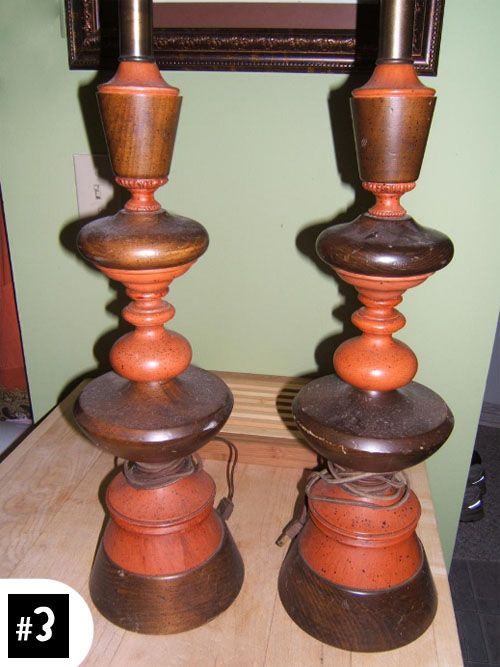 Hey hon? I'm missing two queens from my Secrets of the Seventies Jumbo Chess Set. They're huge? Orangy-speckled? You can't miss them…
This lamp was the sole possession that great-great-grandma Eustice brought across the Atlantic Ocean. The shade didn't fare to well on the journey, and neither did she. I don't know why she couldn't just ride in the boat like everybody else.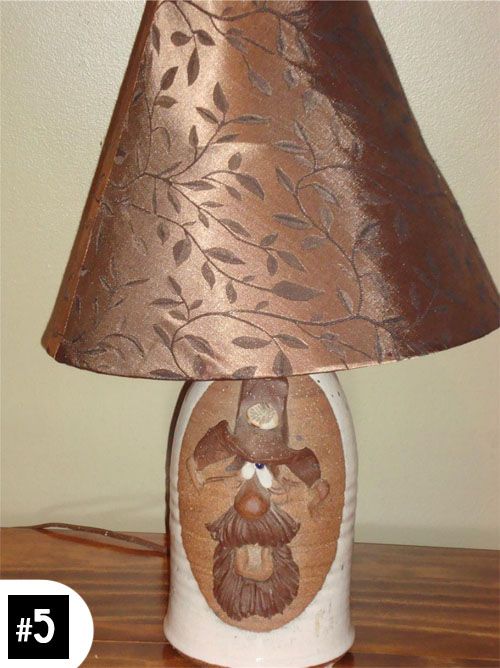 Perhaps no one will notice the cross-eyed cowboy face emerging out of this lamp Mr. Potato Head style, if I just set a pretty shade crookedly on top like so…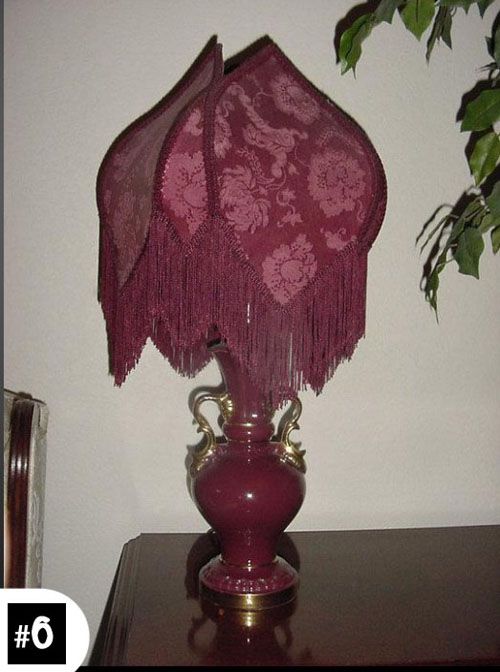 Yessiree
, this here is a one of a kind find, a relic from the past, procured from the
brothel
, er estate of Ms. Coco
McLicious
local business owner here in Boulder City. Let's start the bidding at five dollars. Do I hear five? Five? Four? Who will give me four? Three? Anybody?
from Paula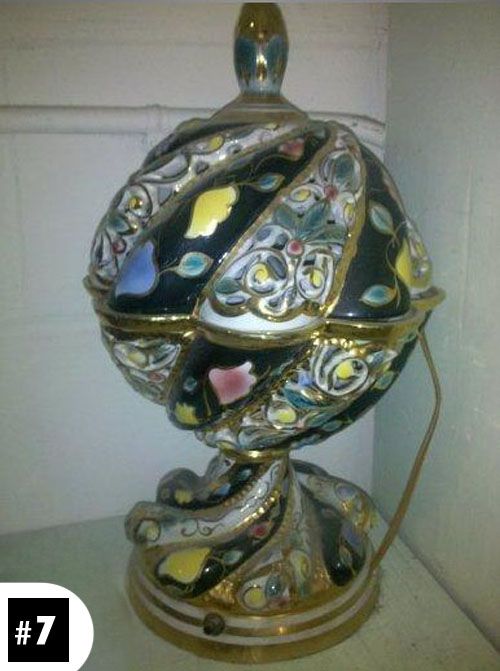 You are getting sleepy. Your eyelids are getting heavy. You are staring into a swirling vortex of gold and poorly painted flower-like object things. You realize that I am beautiful and artlike. You will display me prominently in your home. Hey wait! No! Not back in the basement on the shelf of things you despise but feel too guilty to get rid of!
Dammit.
from Janet