It was the best of times, it was the worst of times. Actually it was just the worst, any way you looked at it. These two old kitchens have never met, but they were very similar in layout and funkiness. And not the good kind of funk, I'm
talkin
' bout nasty funk. 
Both got
redos
, one went dark, one went white and they both quickly exited the funky-town express. 
This first kitchen comes from Jenny at
Envy My Cooking
. And now we can envy her kitchen too, because it looks great. I love the distressed black, although wouldn't it have gone nicely with the harvest gold appliances? Why ever didn't she keep those?
Ok
, not really. Head on over there for a closer look!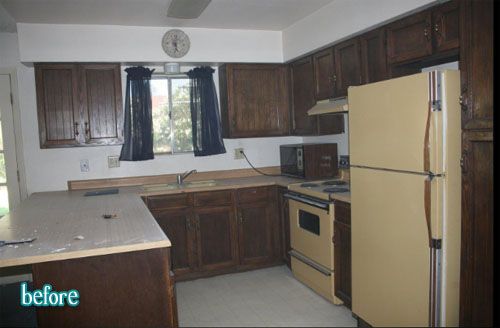 "Our cabin was built in 1977 and when we took possession of it we discovered that essentially nothing has been done to it, including cleaning."
Yikes! So she decided nothing less than spotless white would do, and she lightened, brightened and
de
–
germed
that place in a hurry. Way more details to see on her blog. Thanks ladies!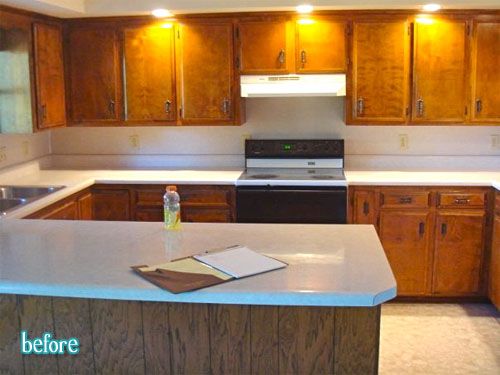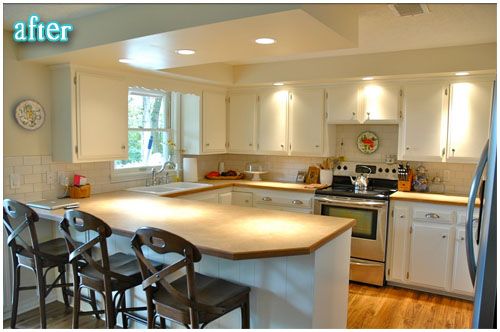 This post has been brought to you by