Ok
, you might have to stare at this one for a while, tilt to the side and scratch your head. Indeed, it does not appear to make sense. 
 What you are looking at before is a very grand, but very useless staircase. Sure, it makes a dramatic impression, but there's only so many times you can sweep theatrically down it in a formal gown before the neighbors start talking. 
 
"Look Myrna. There she goes again."
"I just don't understand it, she's only coming out to weed the garden!"
"Well, she's got to make use of that fancy staircase somehow, I guess." 
 So Sue, decided to heck with that, and turned her grand foyer (you must pronounce that
foh
–
YAAAY
) into a comfortable, functional living space.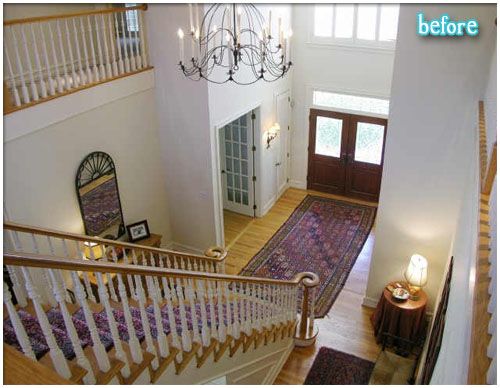 And as if that wasn't enough, she tackled the outdated bathroom too, by warming up the tile and paint and saying farewell to the gold accents of yesteryear. Great job, thanks Sue!