Two similar desks, both done wrong, horribly wrong by their previous owners. 
 The first, a lovely little desk found at a consignment store. Hidden beneath that coat of petrified pea soup was a whole lot of potential. A fresh redress in lemon yellow made her beautiful again! From CMK at
Just Try It!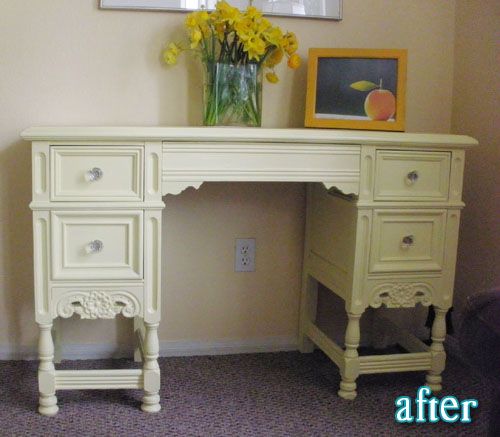 Hidden under layers and layers of paint in the shade of wrong was a lovely wood grain just waiting to be revealed. Brittany from
Grey is the New Black
scraped away years of bad choices and refinished this desk in a classy ebony stain. Check out her blog for even better pictures!
So what's your pleasure? Fresh and sunny or dark and dignified? Either way, I think they both look about eleventy times better than before. Thank you ladies!