There's not really a theme to this
Superpost
, just a lot of really cool bits and pieces that I have been accumulating. Do enjoy! 
 First up is a shelf from Crystal at
Ready, Set, Plan
that went from class clown to class act with the simple addition of
everyone's
best friend, white paint.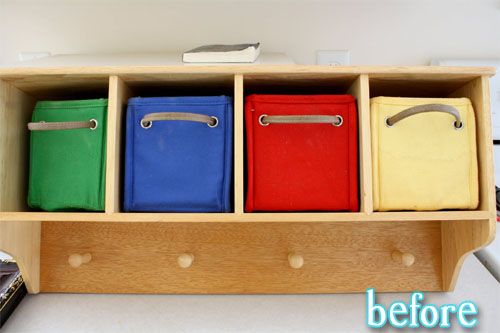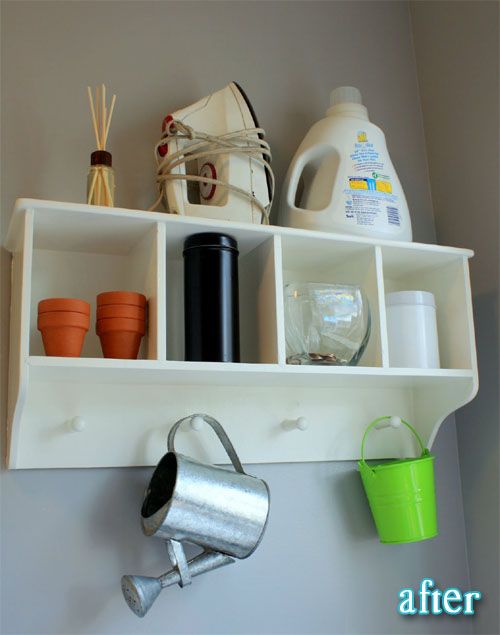 How many of these do you have laying around the house? How many of you realized that old baby wipe containers could be, *gasp* cute? Yvonne did, and created a great little basket for her kitchen counter.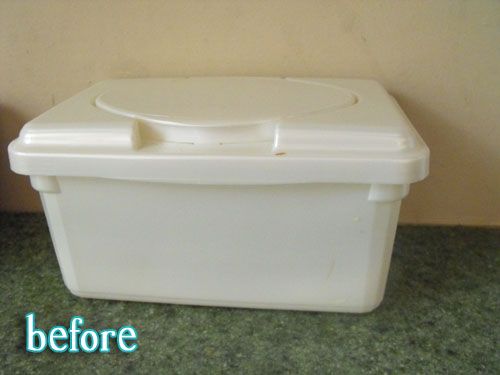 Not to knock the guys or anything, but they don't always strive for style. When Susan asked her husband to build a storage box for extra blankets, she got exactly that. A box to store stuff in. High on the function, low on the form. No
problemo
, she prettied it right up with a padded cover made from
drop cloth
and piping. Lovely!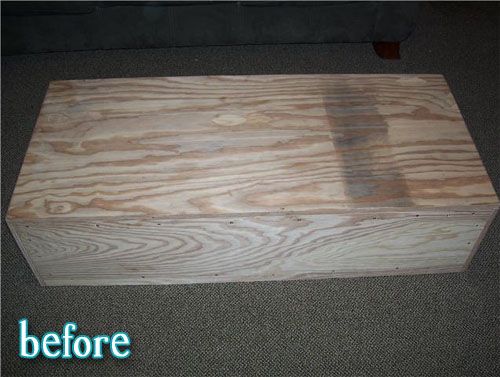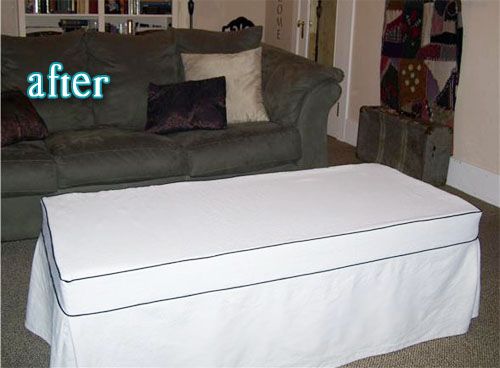 Clara at
The Home in Paradise
had a favorite pair of shoes that finally gave up the ghost. She
resuscitated
them with some cute fabric and outdoor
modge
–
podge
, which I didn't even know existed until this very moment. So fun!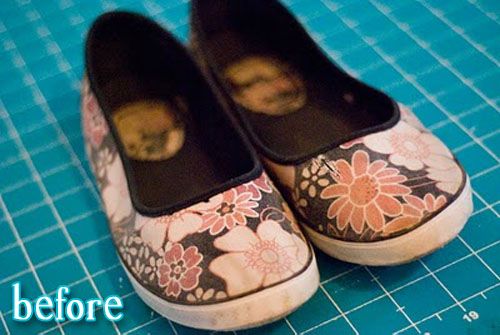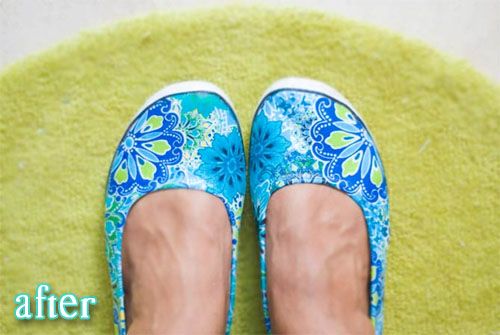 Tasha at
The Simply Staged Home
is full of great
redos
, here she saved an old plant stand that a friend was getting rid of. I love the distressed blue with the
nailhead
border! I bet her friend is cursing herself for letting all that potential get away!
Speaking of being full of it (great
redos
, that is) I've said it before and I'll say it again. If you have a super before and after, don't be shy! Send it in! Even if you've already sent me something in the past, or even if I already featured you a few months ago, or even yesterday! I love them all!
Also, don't get discouraged if you've sent something in and haven't been featured. Sometimes I get a lot of similar projects, and sometimes it just takes me a really, really long time to get through them all, so don't dismay!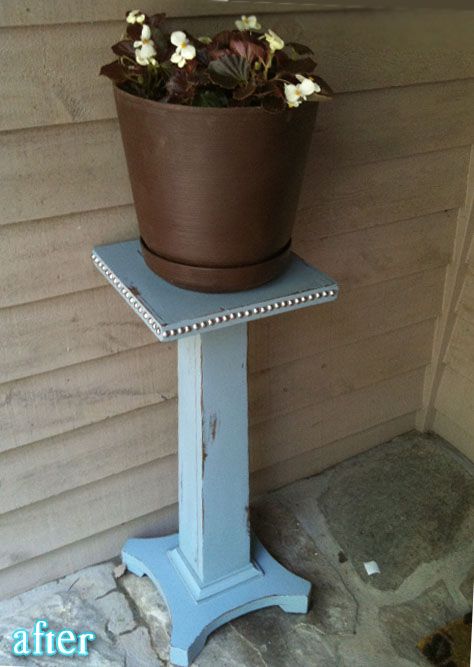 Taylor at
MaryJanes

 and Galoshes
madeover
this royally outdated country welcome sign thing into an adorable
glitterfied
village. They would look so cute lined up in the windowsill of a little girls room, or could make for a snazzy Christmas decoration too. It's not too early to be thinking about that, right?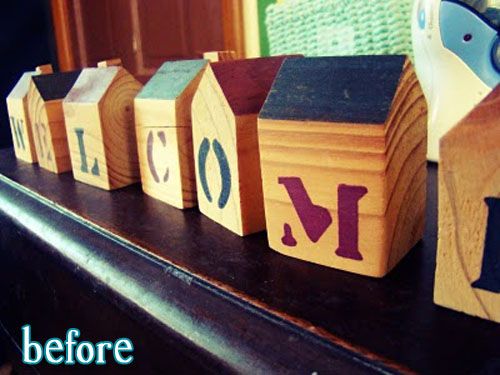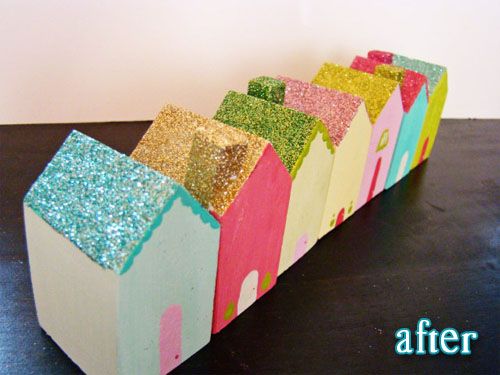 See, not all guys are lacking in the style department! Brendan fashioned this amazing chest out of old closet doors! Amazing how it looks slightly aged and timeless, and nothing like the plain white stock doors it
descended
from. See more at
BrendanCarpenter

.com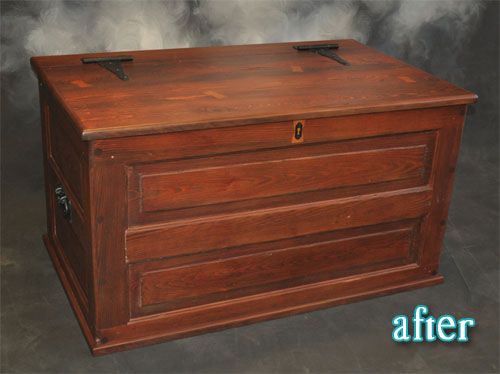 Chantal at
Haas Home
created this animal print rug with paint and a little help from Google images. I think she did a great job! I love zebra print, don't you? Well, if you don't love it, don't tell me, because I don't think I can live in a world where there are people who don't love zebra print.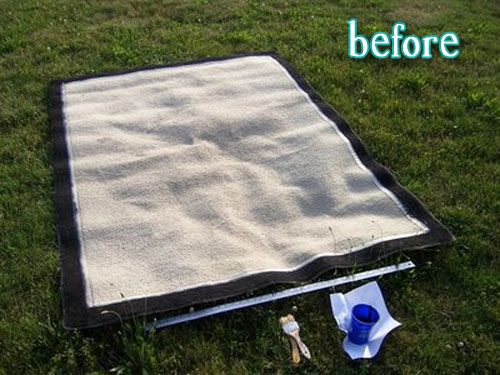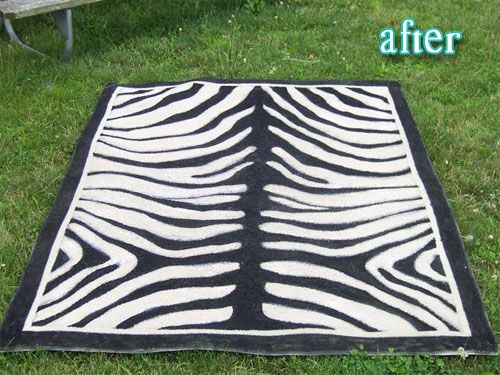 Jennifer at
The Magic Brush
sent in this great chalkboard redo a while ago. Quite awhile ago, like, months ago. (See what I mean about me taking a
looooong
time getting to things sometimes?!) So when I went back to check out her blog, I discovered it has undergone yet another
transformation
. Head on over there and see for yourself! (Pack your sunglasses!)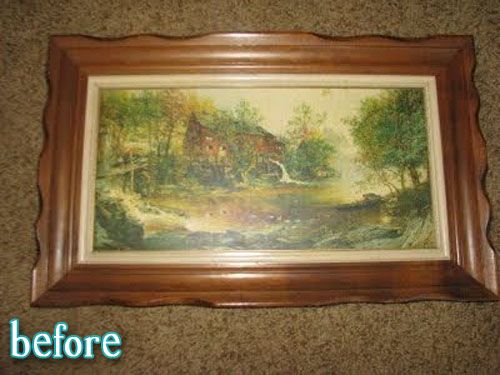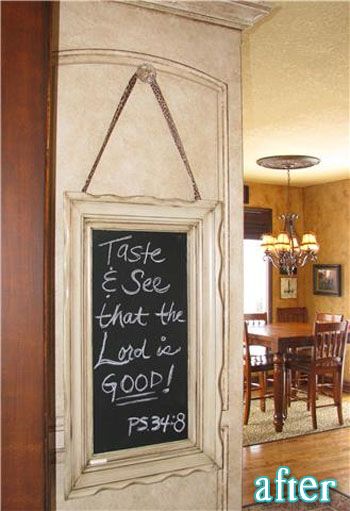 That's all folks! Have a great weekend!