Who loves a good chair redo? Me, that's who! Broke down chairs are easy to find, and gratification comes quick and easy from a simple coat of paint. Or, you can challenge yourself to a renegade reupholstering job. When all is said and done, you'll have a one of a kind creation that serves a purpose and tells a tale. I think everyone should makeover a chair today! Here's some inspiration:
First up: Joelle from
Umbu
. I love how she kept a bit of natural wood peeking through and the fact that she used an old skirt to recover it with! Saving the earth with style!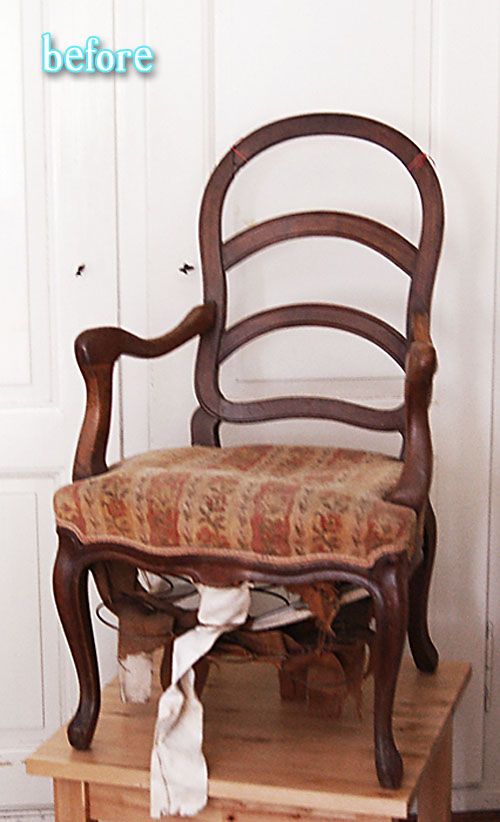 Bree at
Finding Bliss
had this chair languishing in her basement for the better part of a year and one day decided on a whim to teach herself how to recover a chair via youtube. Now THAT is inspiring!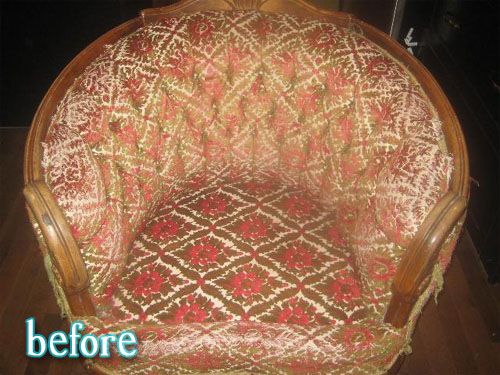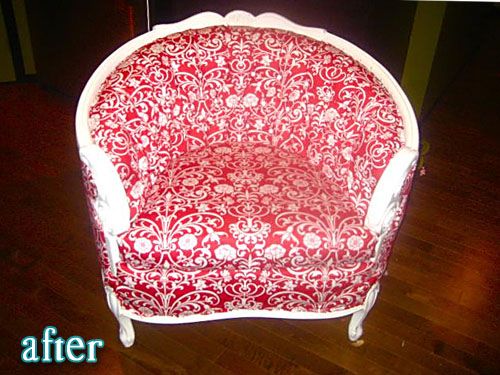 Better After reader Rachel sent in this chair redo, wherein she turned that pathetic old chair into a work of art. High five on the recovering Rachel, look how nice and centered the pattern it is! And who doesn't love damask?
Ronda from 
Little Mills Kingdom
needed a chair for her piano room, so she found this one online for $29. She bulked up that flat-as-a-pancake cushion and repainted and distressed the frame. This was her first recovering project ever. (Seriously, I need to find whatever youtube channel you guys are watching, because I promise my first attempt at reupholstering something other than a square chair seat would NOT turn out that pretty).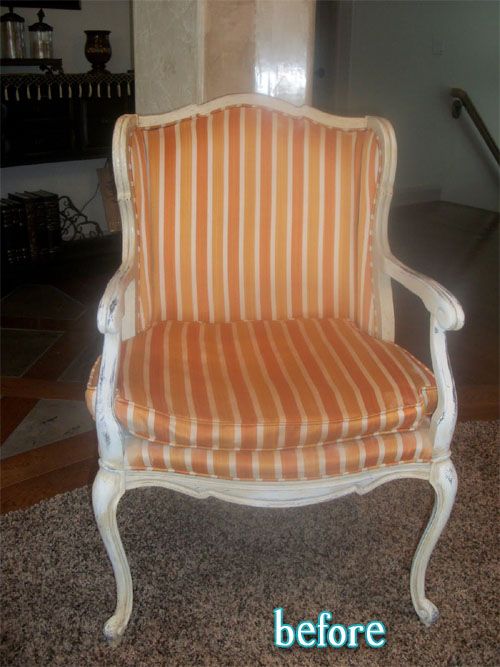 Stacey from 
Chronicles of Organized Chaos
went with glossy black frames and a bold damask print to permanently pack up and move her chairs out of Dullsville.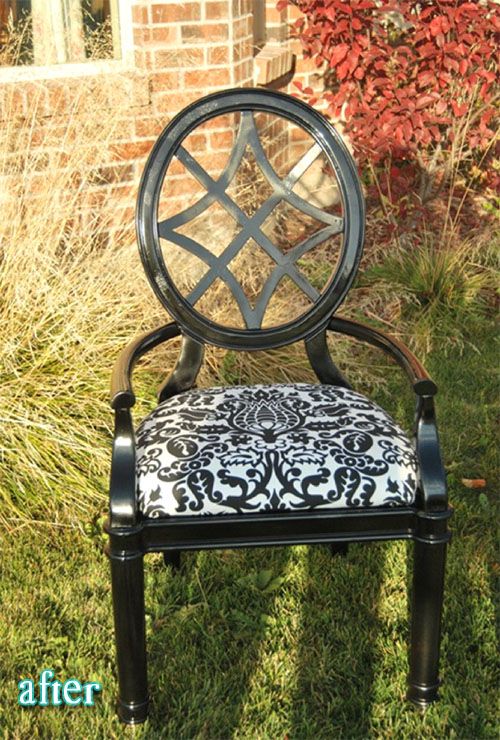 I actually kind of liked the color of this chair before, but that tweedy fabric was a little weird. Reader Shiron wanted feminine with a dash of daring and what does that better than animal print? Another first-timer recovering job! Wow!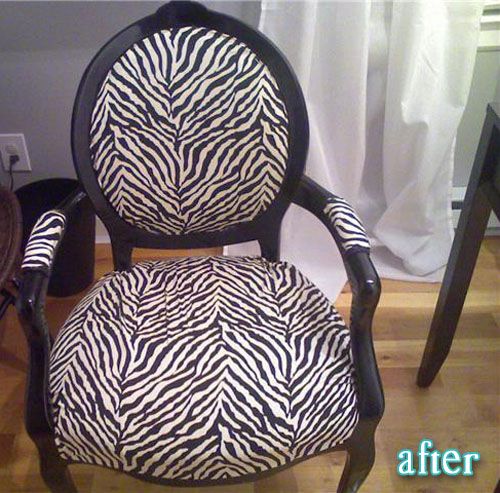 Eileen at A Creative Day redid this chair for her dining room. It looked like a dining room chair from someplace like Luby's Cafeteria before. But with a chalky grey paint job and fabric scored from the remnant pile, it's current and fabulous!
Anita from Nicholas and Anita took a $15 thriftstore chair, $7 worth of fabric, added some manual labor and has a sweet little toile chair to show for it! I'm so impressed, there's like 30 tufts on that thing, I'd probably have given up after about two!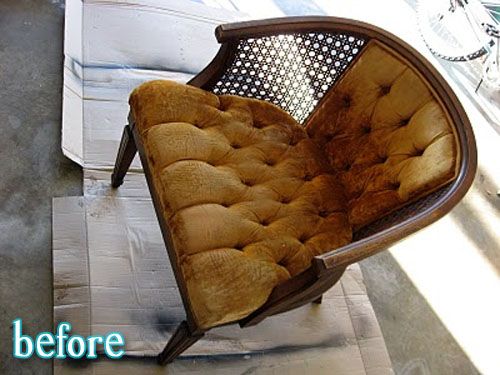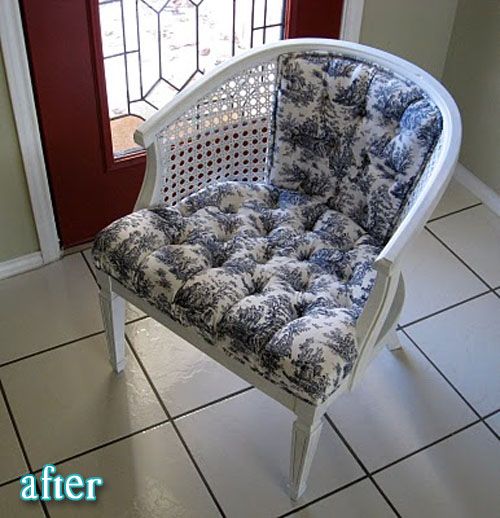 Kate Lydon from Saturate brought these great chairs up to date with some inexpensive fabric from my boyfriend, IKEA. Before, all you noticed was the worn out fabric and cushion but now they really show off their great mid century mod lines. Extra special redo, because these chairs belonged to her grandmother!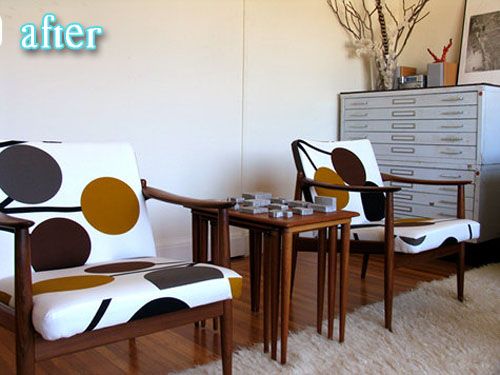 via
Design*Sponge

And finally, just to show you that there is no such thing as a chair with no potential…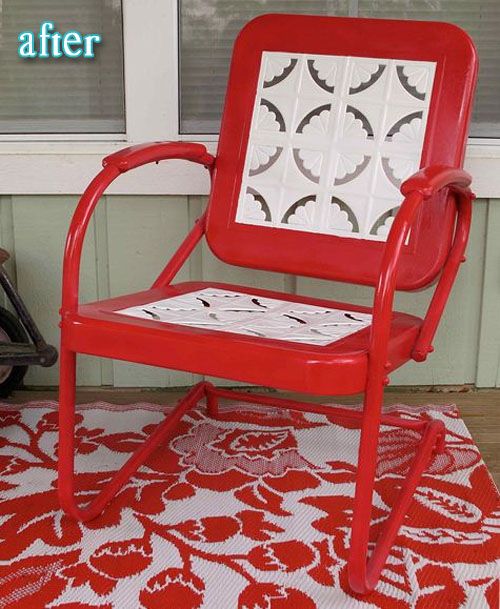 via
Design*Sponge
Isn't that amazing!
From Andrea, who says, "I brushed with a wire brush from Lowe's and used a rust resistant primer before painting. I thought it was going to be a very involved process which is why it took me so long to get started, but the rust came off very easily, no chemicals, just a little elbow grease."
 I'm so impressed and inspired. 
 I might just go find me a chair to makover myself.
 Have a happy weekend friends!