Unless you are colorblind or in a coma, you may have noticed that turquoise is one of the hottest colors around these days. It's popping up everywhere. There's even a snazzy blog called
House of Turquoise
dedicated entirely to the color.
 My take on turquoise is this: "I love!" It can be bright and playful or calm and soothing. And if you've had it up to here with all the almond/oatmeal/eggshell/chicken-bone boring shades of beige in abundance, a soft turquoise can even be nice and neutral.
 The only thing I don't like about turquoise is that it starts to look so weird when you type it over and over. And also, that Ralph Lauren Turquoise perfume smells AWESOME, but is ridiculously expensive.
 So, here are some fabulous before and afters just for you, honoring turquoise!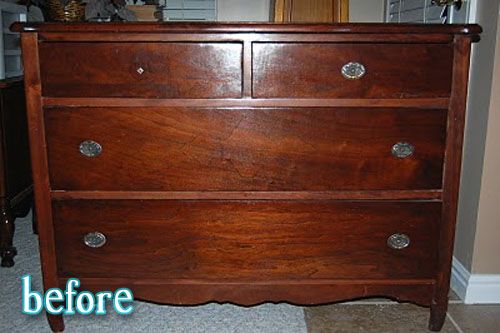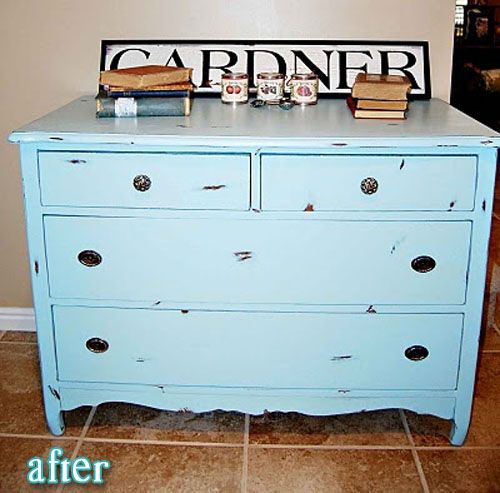 ***
This hutch used to be part of a giant bedroom suite set. Meredith decided it would make for a great TV stand, and after a caseload of Krylon's Bahama Sea, that's what she had! Check out more on her blog HERE.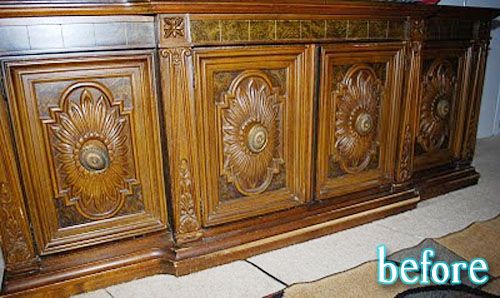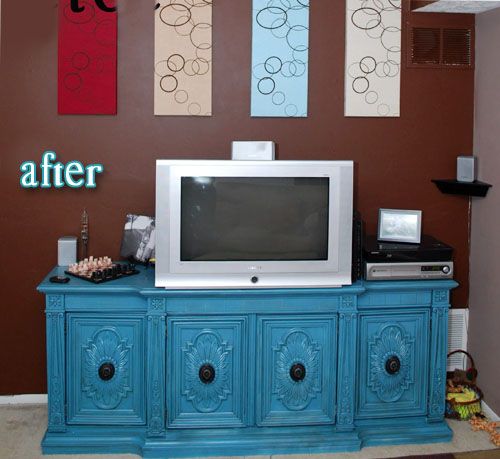 ***
LeAnn's house had this nice built-in shelf, but it was just too dang boring! As you can see by her after picture, girlfriend likes color. Check out more on her super colorful blog Vintage Sassy!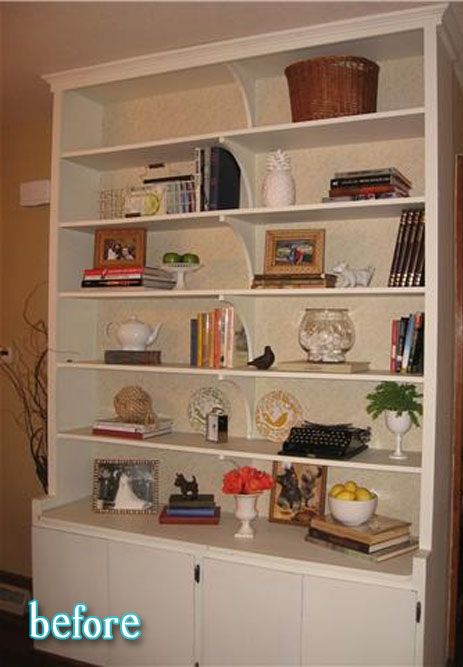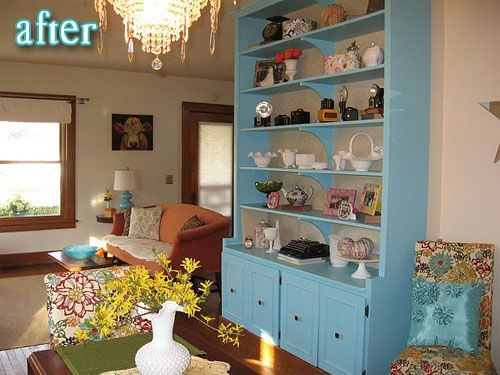 ***
Here's another drab hutch turned into turquoise focal-point from Natasha. I like that she worked with the original handles. Really, a plain little knob would have made it lose so much character. See more on her blog HERE.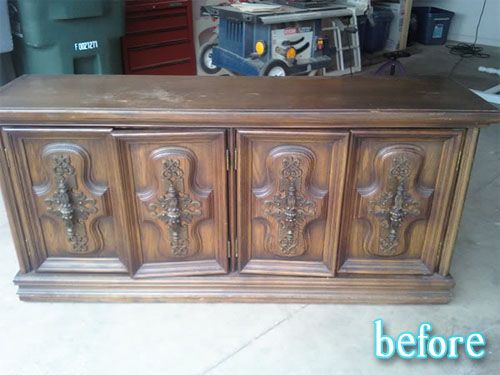 ***
This worn out and weathered rocker got a clean coat of blue from Lindsey. (Not me!) This would look great in either a baby boy or girl's nursery, I think. Check it out on her blog HERE.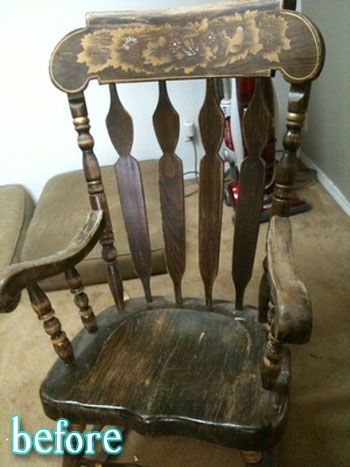 ***
Kari from Foreclosure 2 Fabulous streamlined this desk by removing the decorative moulding around the drawers and adding sleek new handles. Then she repaired the damage with a bold, bright aqua! Check out her blog to read more the funny story behind the cigarette lock!
***
Gail from My Repurposed Life is always finding ways to clever ways to make ordinary objects into extraordinary decor. Old candlestick + old pot lid + aqua spray paint = funky birdbath! Love it!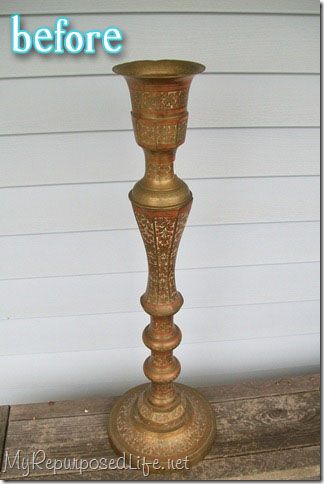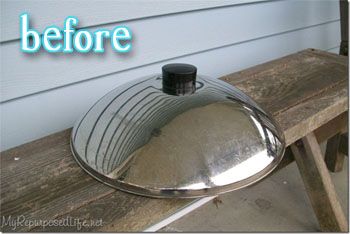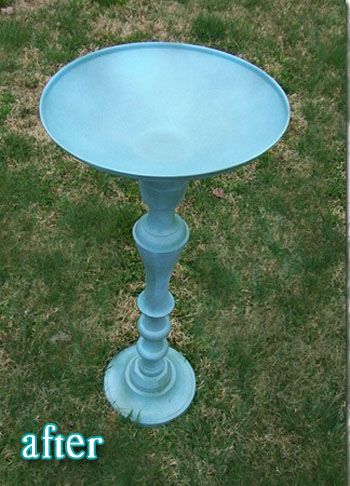 ***
This cute little table is from Hanna at Drab to Fab! What a great idea to remove the drawers and line the interior with beadboard, it really makes it unique.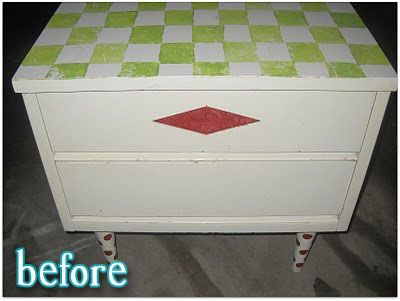 ***
Jen got this dresser for dirt cheap, the Anthropologie knobs not so much. Check it out on her blog, Jen Rose, and be prepared to be jealous of her way fun life! Did you know she's a makeup artist and recently worked backstage at the AMC Awards? Jealous!
***
Beth inherited this dining set from her sister-in-law and set (her hubby!) to work making it her own. I really love the shade used here!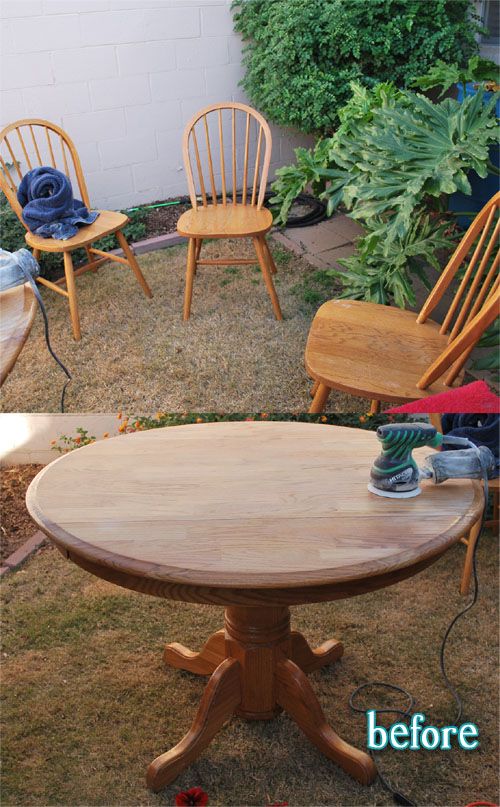 ***
Amanda turned this old dresser into an entertainment center by removing the top drawers! Very clever, although I do admit, I liked the character of the original hardware! Check it out on her blog HERE.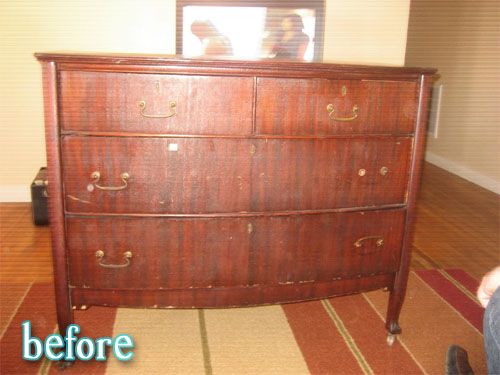 ***
And finally, a bathroom makeover from Andrea from Sisters with Flair. Flair indeed. I love the idea of hanging a mirror on a mirror, but it was looking a little lost in the before. The painted cabinets definitely pulled it all together.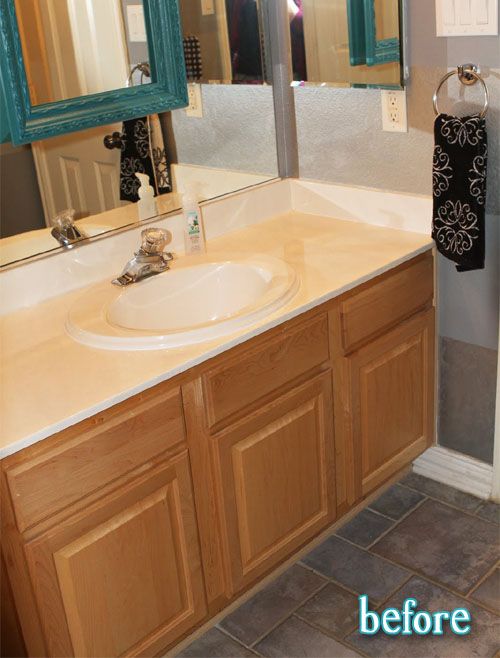 And as always, thanks so much for visiting my blog. Have a great weekend!