I've been in bit of a blog slump, sorry friends! Just been busy doing stuff and more stuff. You know how it is. Also, something else put me in a slump recently, but I feel silly talking about it.
Ok
,
ok
, I'll tell you. 
 So I admit, I was googling myself, and what to my
wondrous
eyes should appear? Some
grinch
of a girl had taken to her blog to trash Better After, and trash it soundly. She
re-posted
several projects that have been featured here, cattily mocking them and the people who made them. 
 I know I shouldn't have let it get to me, but darn it, it hurt my feelers!
Believe
me, I realize not every project I post has the potential of ending up in some fabulous design magazine. More often than not,
modge
podge
and scrapbook paper are heavily involved. 
 But if all it takes is a can of spray paint and a $6.99 desk from Goodwill to lift a person's spirits and get them excited about personalizing the space around them, then where's the harm in that, right? Not everything is "better after" to everyone, but I hope at least everyone can find some point of inspiration and see potential in things they may have previously overlooked. 
 Sigh. I feel better. 
 So, in the spirit of
kindness
, I have a favor to ask!
Check out this table. Leah, aka Momma O sent this in and said: 
"I've found such a deal on this kitchen table and chairs ($50!), but I'm not loving it in the state it's currently in. I have a classy modern taste and this doesn't fit my style at all. I know I would like to redo the table to be painted white or an espresso brown…but the chairs? I don't like at all. Do you (or your readers) have any suggestions of ways to make them look more modern and stylish, or is it worth it to splurge on new chairs?"
What say you readers? Any super creative ideas to help her out? Let's hear 'em!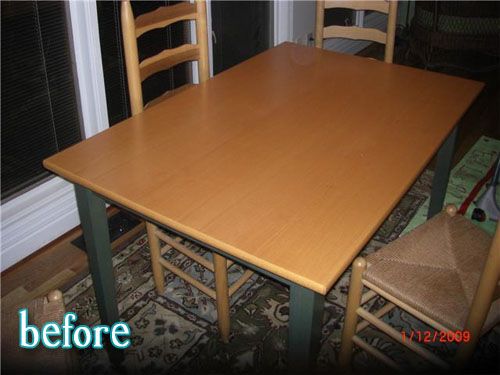 and I'll be back and slump-free on Monday! Happy Weekend!