Come to the dark side today with these three projects featuring … BLACK PAINT! First up is a dresser turned bar by Alice from
Once Upon a Dresser.
I love that this could be used in so many different ways. Check out her blog to see where it's stationed now!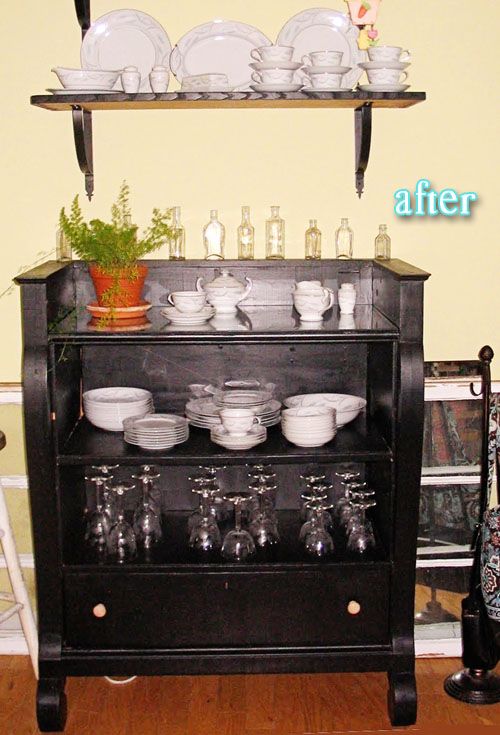 And the bookcase turned TV stand from the other day got some rave reviews, so here is another entertainment center repurpose from Ann Marie. She says,
"Our old tube TV died after years of use, and after I did a happy dance that the purchase of a new flat panel TV would now be justified, I started pricing entertainment centers to house a new flat panel. Whew! They are really expensive! Even just a cheap laminate Walmart one could easily be at least $200! The ones that I was drawn to were, inevitably, at least $800.


I knew that I would have to think outside the box to find something that would work, be beautiful, fit my style, and find it on the cheap! I found this old china hutch at Goodwill for $40! I removed the back, the shelves (all except one that I moved up for the DVD player and VCR) and the center brace. I sanded, primed, painted, added new Hobby Lobby pulls, and voila!! I LOVE it, arguably more than DH loves the new flat panel!"



Thanks Ann Marie!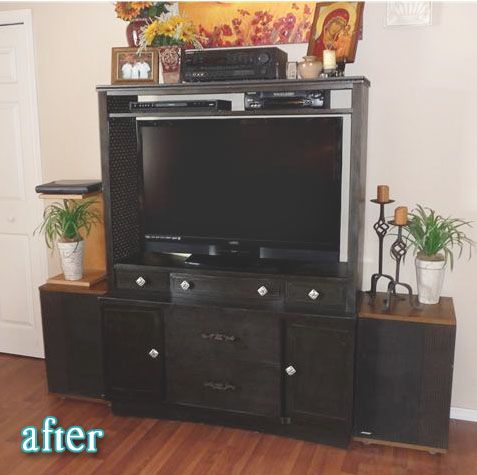 And finally, this lovely buffet redo comes courtesy of Ashley from Decorating Obsessed. It looks so chic all dressed up in black!